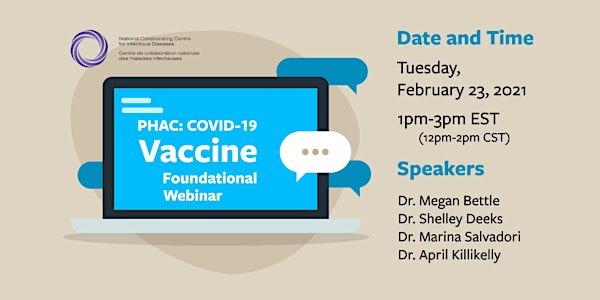 PHAC: COVID-19 Vaccine Foundational Webinar
PHAC Webinar for New and Returning Health Care Providers (HCPs) administering COVID-19 vaccines
About this event
The National Collaborating Centre for Infectious Diseases presents:
The Public Health Agency of Canada (PHAC) Webinar for Health Care Providers:
This moderated webinar is specific for allied, new and returning Health Care Providers (HCPs) who will be administering COVID-19 vaccines. A live Questions and Answer session will follow each presentation.
Foundational webinar on COVID-19 Vaccines presentations:
Opening remarks by Dr. Njoo, Deputy Chief Public Health Officer
Health Canada's COVID-19 vaccine regulatory authorization process
Role of National Advisory Committee on Immunization (NACI) in COVID-19 vaccine guidance development
Description of COVID-19 vaccines that may be available in Canada
English Presentation
Tuesday, February 23, 2021
1:00 pm-3:00 pm EST
Presentation Summary:
This COVID-19 vaccine foundational webinar will provide information about the vaccine regulatory authorization from Health Canada, guidance developed by NACI that informs the Canadian Immunization Guide, and information on COVID-19 vaccine technologies.
Presenters: Dr. Megan Bettle, Health Canada, Dr. Shelley Deeks, Vice Chair of NACI, and Dr. Marina Salvadori and Dr. April Killikelly of the Public Health Agency of Canada
Moderator: Dr. Aleksandra Wierzbowski, NCCID
Please note, due to time limitations, not all questions can be answered.
This webinar will be recorded and available on NCCID website shortly following the webinar.
Access Information
NCCID will be hosting this webinar on Zoom's Webinar Platform. Livestreaming may be available.
Information on how to access the webinar will be provided to you in your Eventbrite registration confirmation email. Please register to receive your access link.
You can test your compatibility with Zoom meeting software here - https://support.zoom.us/hc/en-us/articles/115002262083-Joining-a-test-meeting
If you experience technical issues during the webinar, you can email us at nccid@umanitoba.ca
Other
The same webinar will be presented in English and in French.
French session
Friday, February 26, 2021 at 1:00 pm-3:00pm EST
Link to session in French https://ccnmi.ca/webcast/webinaire-de-laspc-fondements-sur-les-vaccins-contre-la-covid-19/