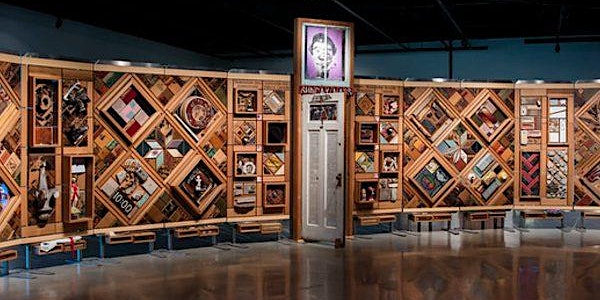 Picking Up the Pieces:The Making of the Witness Blanket - Online Screening
Join us for an online screening of "Picking Up the Pieces: the Making of the Witness Blanket"
About this event
This film follows the journey of making the Witness Blanket - a national monument that commemorates the experiences of residential school survivors across Canada. Inspired by a woven blanket, the Witness Blanket is made from hundreds of items reclaimed from residential schools, churches, government buildings and traditional and cultural structures across Canada. The process of gathering these objects and their stories took artist Carey Newman and his team from coast to coast to coast. They traveled over 200,000 kilometers, visited 77 communities, met over 10,000 people, and welcomed over a thousand objects into their care.Each object has a story to tell, each survivor has something to say.
The film weaves those stories with Carey Newman's personal journey, examining how art can open our hearts to the pain of truth and the beauty of resilience. Watching this documentary allows you to witness the making of this powerful artwork and the survivor stories it bears.
Bill Cohen, a member of the Okanagan Nation with extensive kinship ties throughout B.C. and Washington, will serve as the moderator for this event. Bill also an Assistant Professor at the Okanagan School of Education at UBC:Okanagan campus. The screening is hosted by the following groups: Amnesty International Okanagan, Central Okanagan United Church, City of Kelowna Cultural Services, Kelowna Sunrise Rotary, Okanagan Regional Library and the Rotary Centre for the Arts.The screening of this film has been supported by the Canadian Museum for Human Rights.
Artist Carey Newman says: "In the Salish tradition, we ask people to stand and speak about what they have witnessed." We ask you to share its stories and your own story of encountering them, and to weave these memories and experiences into your life in living remembrance." (Quoted from the Museum of Human Rights)
This film shares traumatic stories from residential schools. Please be sure to connect with support if you need it. A National Indian Residential School Crisis Line has been set up to provide support for former students and those affected. Access emotional and crisis referral services by calling the 24-hour national crisis line: 1-866 925-4419.
From January 15 to April 10, 2022, there is an opportunity to view an exhibit of a 40-foot-long reproduction of The Witness Blanket, constructed from cedar with photographic panels to represent the original artifacts at the Kelowna Art Gallery.