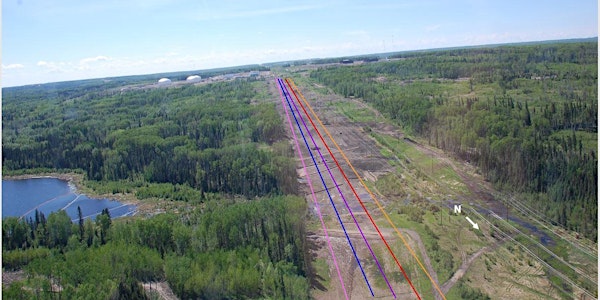 Pipeline Bending from Geotechnical Movement
Location
University of Alberta Faculty Club
11435 Saskatchewan Drive Northwest
Edmonton, AB T6G 2G9
Canada
Description
Abstract:

Transmission pipelines often traverse thousands of kilometers to transport liquid and gas products from the supply to consumption locations. There may be sites along the route that exhibit ground movements such as unstable slope crossings, seismic zones, ground settlement locations, and discontinuous permafrost zones. These ground movements induce axial and bending loading to buried pipelines, which can potentially cause pipeline failures due to either buckling or fracture. Correspondingly these threats are mitigated by pipeline operators during either the design phase or during operations. Strain based assessment is most commonly used by integrity engineers, whereby the strain demand from the ground movement threat is quantified and compared to the strain capacity of the pipeline. Large scale mitigation projects may be warranted if the pipeline strain demand exceeds the capacity.
In June 2013, Enbridge experienced a pipeline failure at a slope located near Cheecham, AB, 60km south of Ft. McMurray. The leak occurred at a buckle that formed due to excessive compressive forces at the toe of the 4 degree x 1.5km long slope. The site is located at a major export corridor for the Athabasca oil sands, and is traversed by several large diameter Enbridge pipelines. The entire right of way was shut down due to the incident, resulting in considerable impacts to shippers. Due to the criticality of this pipeline right-of-way to shippers, over $100MM in pipeline and slope mitigations have been executed by Enbridge at the site. These have been comprised of pipeline monitoring installations, strain reliefs, and major slope stabilization activities. These have allowed for real time monitoring to be conducted at the site, the pipeline strains to be maintained below capacity, and have resulted in the slope movement rates to be reduced from > 3m / year to below 0.3 m / year. This slope is undergoing ongoing management by Enbridge and is experiencing safe operations as a result of these mitigations.
Presenter:

Millan Sen, Ph.D., P.Eng.
Millan is currently an Engineering Specialist with Enbridge Pipelines. He has worked at Enbridge for the past 10 years, and at TransCanada Pipelines for 5 years. He obtained his PhD in Structural Engineering from the University of Alberta in 2005. Millan is a current a Track Chair at the International Pipeline Conference, Session Chair at the Pipeline Geohazard Conference, and has held numerous past leadership positions at the Banff Pipeline Workshop, Pipeline Research Council International, and other industry committees. He has authored or co-authored over 30 industry journal papers, conference papers, industry guidelines, and textbook articles. Millan has spent approximately half of his career on evaluating the pipeline threats associated with ground movements, which is the topic of today's discussion.
Nader Yoosef-Ghodsi, Ph.D., P.Eng.
Nader has been working for Enbridge Pipelines since 2015, where he is currently a Senior Specialist in the Integrity Reliability Group following 3 years of work as an Engineering Specialist for geohazards management. Prior to that, he worked for C-FER Technologies for 14 years. Nader holds a Ph.D. in Structural Engineering from the University of Alberta and has authored or co-authored several peer-reviewed publications.