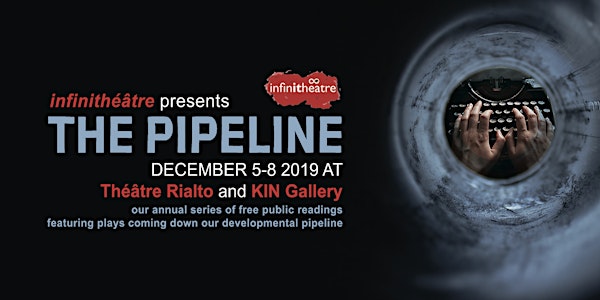 Pipeline
Description
PLEASE NOTE THAT OUR DECEMBER 8TH READING OF MAZEL TOV WILL BE PRESENTED AT KIN GALLERY, AND NOT THÉÂTRE RIALTO.
Infinithéâtre proudly presents The Pipeline, our annual public reading series of plays that are in coming down our development pipeline. Audience feedback takes centre stage as Infinithéâtre invites the public to catch the excitement and share their views on plays that we are considering for production in future seasons. The winning play of our Write-On-Q! playwriting competition is always featured in this readings series.

The Pipeline gives the public a unique opportunity to voice their opinions and directly influence Montréal's cultural landscape through the lively talkback discussions following each reading. These sessions provide invaluable input for the playwrights and the talkbacks allow the audience to address questions or issues that the texts generated in a relaxed, open forum with the authors, directors and actors.
For Infinithéâtre's Artistic Director, Guy Sprung, The Pipeline reading series has become a vital step in the process of developing new plays and making programming choices for Infinithéâtre's upcoming seasons.


FULL PIPELINE SCHEDULE
Our Lady of the Ice by Alyson Grant
December 5th, 2019 @ 7:00PM
Presented at Théâtre Rialto
5711 Park Ave, Montreal, Quebec H2V 4H2
Directed by: Cristina Cugliandro
Cast: Lucinda Davis as Reverend, Arthur Holden as Cal, Howard Rosenstein as Maxim & Man 1, Gabe Maharjan as Patrick & Man 2, Chloé Bilodeau as Ariel
Our Lady of the Ice is set in Antarctica in a church carved out of ice--much like the actual church called Our Lady of the Snows--and outside where it is slightly too warm and Aurora Australis is occasionally flashing even though it's not the right time of year. Dead penguin chicks dot the landscape and are also mysteriously showing up on the altar of the church presided over by a female Catholic priest, one of a growing number worldwide, all excommunicated, of course. At the thematic centre of the play is the dead body of a young female journalist who had been working with the priest, both of whom had clearly gotten too close to systems that are meant to remain invisible. Representatives of those systems are the invisible "Guests" who increasingly menace the priest through their footman Cal, owner of a luxury hotel where the unseen Guests are staying. Things move inexorably towards something that has the feel of myth while also seeming hauntingly current.
Divide and Rule by Vishesh Abeyratne
2019 WRITE-ON-Q! RUNNER-UP
December 6th, 2019 @ 7:00PM
Presented at Théâtre Rialto
5711 Park Ave, Montreal, Quebec H2V 4H2
Directed by: Tamara Brown
Cast: Holly Gauthier Frankel, Rahul Gandhi, Arun Radhakrishnan
In a thrift shop in British Columbia, a heated exchange between two Sri Lankan employees breaks out into a fight. Their manager tries to defuse the situation, bringing intercultural tensions and charged racial politics to the fore. But there may be more to the conflict than the two men are letting on…
Colour Blind by Oren Safdie
2019 WRITE-ON-Q! "KEVIN" AWARD WINNER
December 7th, 2019 @ 7:00PM
Presented at Théâtre Rialto
5711 Park Ave, Montreal, Quebec H2V 4H2
Directed by Philip Akin
Cast: Don Jordan, Warona Setshwaelo, Patrick Émmanuel Abellard, Elana Dunkelman, Jeremy Cabrera, Guy Sprung
Colour Blind is a fictionalized account of the jury deliberations surrounding the selection of an architect for the Smithsonian National Museum of African American History and Culture in Washington, D.C., designed by David Adjaye, completed in 2016.
The play lifts the veil that renders the process of architectural production bewildering, and invites the audience into the usually sealed-off space where critical decisions about architecture are made.
The jurors consist of a racially diverse cast of characters that include the museum director and his associate, an architecture critic and starchitect, and the museum's treasurer and a community organizer.
Can they all put their personal politics aside and agree on one design?
Mazel Tov by Marc-André Thibault
December 8th, 2019 @ 2:00pm
Presented at KIN Gallery
397a Saint-Catherine St W, Montreal, Quebec H3A 2G3
Directed by Ellen David
Cast: Alex Weiner as Philip, Patrick Émmanuel Abellard as Patrick, Elana Dunkelman as Isabelle, Howard Rosenstein as Leon
Isabelle is Jewish, Patrick isn't.
They are getting married.
During the celebration, Phillip, Patrick's best friend, makes a gesture that is perceived as anti-Semitic.
Several guests are angry, in addition to Isabelle, who strikes Phillip, and seriously harms him.
The wedding is not the one we hoped for.
The marriage is even worse…