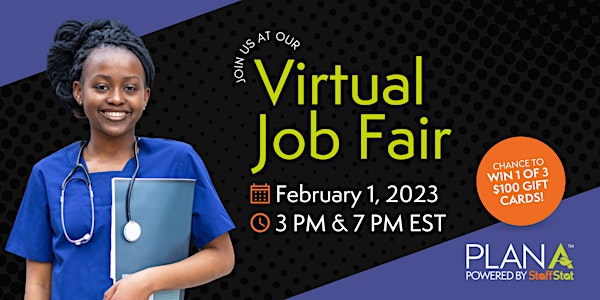 Plan A Powered By StaffStat | Virtual Job Fair
Join us Virtually on Wednesday, February 1 at 3PM EST or 7PM EST to learn why Plan A is the Best Job Ever for Canadian health care workers!
About this event
Calling all Canadian healthcare professionals & Nursing Students!
Join us virtually on Wednesday, February 1st at 3 PM or 7 PM EST to secure the #BestJobEver! Plan A offers meaningful work, great rates of pay, the ability to create your own schedule, travel opportunities, employee perks and more! Plus, we're giving away $100 e-gift cards (of your choice) to 3 lucky attendees! See you there! Register now!
After registering, please check your spam folder often for your link to join!
Currently Hiring in:
British Columbia: Nursing Students, HCAs, LPNs, RNs
Alberta: Nursing Students, HCAs, LPNs, RNs
Ontario: Nursing Students, PSWs, RPNs, RNs
Nova Scotia: Nursing Students, CCAs, LPNs, RNs
New Brunswick: Nursing Students, PSWs, LPNs, RNs
Manitoba: Nursing Students, HCAs, LPNs, RNs
PEI: Nursing Students, HCWs, LPNs, RNs