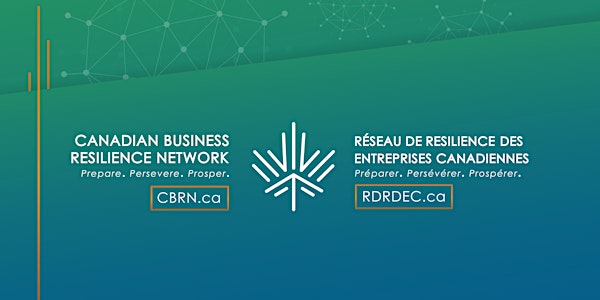 Planning for recovery: How to restart your business in the wake of COVID-19
Sales Have Ended
Registrations are closed
Call-in information and Q&A information (Sli.do): You are invited to call Webinar on Lifesize. Join the meeting: https://call.lifesizecloud.com/2008663 Join the Lifesize meeting using Skype for Business: https://skype.lifesizecloud.com/2008663 Call in by Phone or Mobile (audio only) Canada: +1 (844) 572-5683 Meeting extension: 2008663# Additional numbers: https://call.lifesize.com/numbers Calling from a Lifesize conference room system? Just dial 2008663 with the keypad. Other ways to call: https://call.lifesize.com/otherways/2008663 Q&A Information: https://app.sli.do/event/2u9jreao OR www.sli.do Meeting #5182
Sales Have Ended
Registrations are closed
Call-in information and Q&A information (Sli.do): You are invited to call Webinar on Lifesize. Join the meeting: https://call.lifesizecloud.com/2008663 Join the Lifesize meeting using Skype for Business: https://skype.lifesizecloud.com/2008663 Call in by Phone or Mobile (audio only) Canada: +1 (844) 572-5683 Meeting extension: 2008663# Additional numbers: https://call.lifesize.com/numbers Calling from a Lifesize conference room system? Just dial 2008663 with the keypad. Other ways to call: https://call.lifesize.com/otherways/2008663 Q&A Information: https://app.sli.do/event/2u9jreao OR www.sli.do Meeting #5182
Planning for recovery: How to restart your business in the wake of COVID-19
About this event
As the Canadian economy is gradually reopening, business owners need to adapt their operations, ensure supply chains and manage their finances.
Join us June 2 for a live webinar. We will be joined by BDC Chief Economist Pierre Cléroux who will give an economic update and speak about the main business trends that will reshape the way we do business. Also joining, will be BDC Advisory Services Executive Vice President Peter Lawler who will discuss what business owners should be doing now as they ramp up operations; he will also give an overview of financing support programs and resources available.
The presentation will be followed by a Q&A session with our experts.
BDC is the Business Development Bank of Canada and the only institution in the country exclusively devoted to entrepreneurs. It provides financing, capital and advisory services to help Canadian businesses succeed.