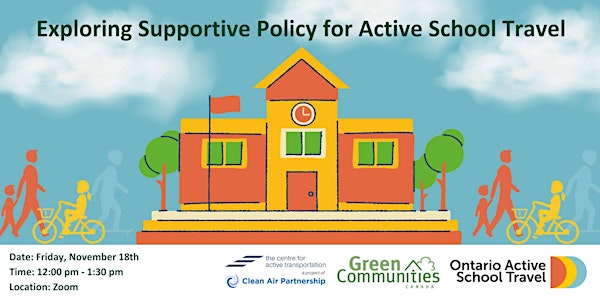 Policy Recommendations to Support Active School Travel in Ontario
On November 18th, join TCAT, GCC, and HEAL for a deep dive into supportive policy for active school travel in Ontario.
About this event
Between 2020 and 2022, Green Communities Canada and the Human Environments Analysis Lab at Western University conducted extensive policy research on active travel to school, culminating in a final report titled: Evidence-based recommendations for policies to promote active transportation for school journeys.
The incredible report contains a total of 57 policy recommendations, based on a multi-method research strategy which included a comprehensive literature review of 185 academic journal articles, environmental policy scans of 24 regions in Ontario, and 555 key informant surveys and interviews.
On November 18th, The Centre for Active Transportation will host a webinar, in collaboration with Green Communities Canada, to share key findings from this policy research and raise awareness on actionable policy recommendations within the report.
TCAT will be joined by:
Emma Fabri, Human Environments Analysis Lab at Western University.