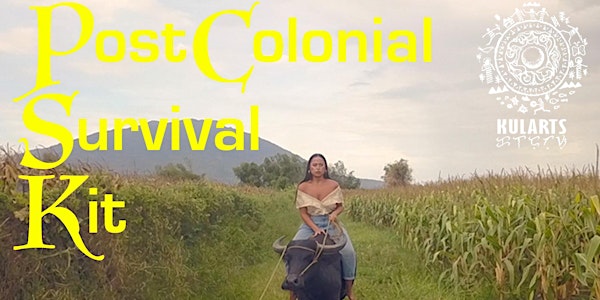 PostColonial Survival Kit
When and where
Location
The Luggage Store Gallery 1007 Market Street San Francisco, CA 94103
Description
PostColonial Survival Kit is a FREE exhibition that explores survival tactics of contemporary tribal and diasporic Pilipinx against the historical and ongoing inequities of cultural erasure and marginalization, brought on by centuries of colonization. The exhibition features tribal soil paintings, sculpture, installation, and media art and will run from May 3-31 at The Luggage Store Gallery at 1007 Market St, San Francisco, CA 94103.

The month-long exhibition features curated programming including an exclusive performance by Talaandig Tribe Culture Bearers Datu Rodelio 'Waway' Saway, Salima Saway Agra-an, and Marcelino 'Balugto' Necosia Jr. for the opening reception on May 3rd. The visiting tribal artists will be exhibiting their internationally recognized soil paintings. The contemporary tribal voice complicates the identity dialogue within the Pilipinx diaspora.
Friday, May 3 @ 6:30PM: Opening with music by Talaandig Tribe cultural bearers. Lechon and Infanta Lambanog will be served!
Friday May 17 @ 6:30PM: Komiks as Survival Kit with a reading of "Isugid Pinoy!" by Joe Cascasan and Bindlestiff artists
Friday, May 24 @ 6:30PM: Hip Hop as Survival Kit, performances by Sammay Dizon, Rocky G, and guests
Friday, May 31 @ 6:30pm: Closing Reception with performances by Datu Rodelio 'Waway' Saway, Joel Ganlal, jose e. abad x Peekaboo, and Doble Bara
Featured Exhibiting Artists: Caroline Garcia (Australia), Kimberly A. Arteche (US), Wilfred Galila (US/Philippines), Marcelino Necosia Jr. and Salima S. Arga-an (Philippines)