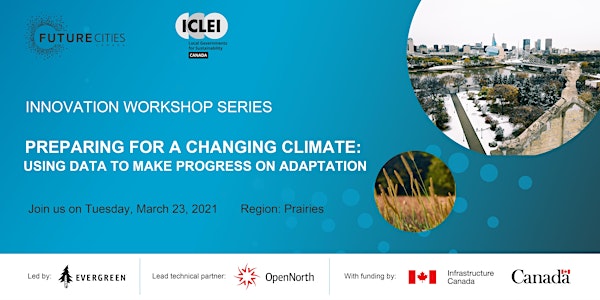 Preparing for a Changing Climate: Using Data to Make Progress on Adaptation
A Prairies focused innovation workshop centred around how to use data to make progress on climate adaptation and resilience.
About this event
The Community Solutions Network is a program of Future Cities Canada, and is designed to help communities build service area capacity and improve the lives of residents using data and connected technology approaches. ICLEI Canada along with Evergreen and the Community Solutions Network are partnering to deliver a series of innovation workshops on the relationship between data, technology and climate resilience.
This workshop will provide an opportunity for municipalities, Indigenous communities, municipal networks, academics, and subject-matter experts from across the Prairies to connect, share, and ask questions around how to best use data to advance action on climate adaptation and resilience.
Following two presentations (one on data to inform climate risk assessments, and the other on data to support implementation), the session will be divided into two hands-on activities that you can choose from, based on where you are with adaptation efforts locally and which of the presentations was more applicable to your work. Activity One will focus on exploring climate data (both future climate projections and historic trends) for decision-making on adaptation, whereas Activity Two will focus on using data (e.g. geospatial mapping and baseline information) to advance implementation.
A critical part of addressing climate risk and building resilience in our communities is to understand the degree of change that will occur locally and what capacity we have to address those changes and reduce our exposure. You will leave this workshop with more hands-on knowledge on how to better use a variety of data to continue making meaningful progress on climate adaptation and resilience. Register today!
Draft Agenda
10:00 – 10:15: Welcome and Introductions
10:15 – 10:35: Data to Inform Climate Vulnerability and Risk Assessments - Presentation and Q&A
10:35 – 10:55: Using Data to Support Implementation - Presentation and Q&A
10:55 – 11:00: Transition to Breakout Rooms
11:00 – 11:45: Breakout One: Exploring Climate Data for Decision-making
Breakout Two: Using Local Data to Advance Implementation
11:45 – 12:00: Group Discussion and Workshop Wrap-up