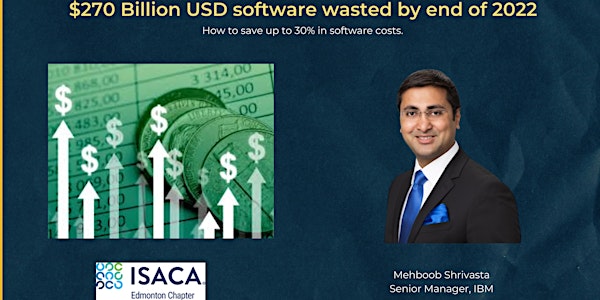 Presentation: How to save up to 30% in Software Costs! (27-Jan-2023)
ISACA Edmonton is organizing this special presentation on cybersecurity and business risk management.
By ISACA Edmonton Chapter
Date and time
Fri, Jan 27, 2023 10:45 AM - 12:00 PM PST
About this event
$ 270 Billion USD software wasted by the end of 2022: How to save up to 30% in Software Costs!
January 27, 2023 presentation details
Remote employees, supply chain headaches, openings, then closures, and the Great Resignation are just some of the stressful issues that most organizations and leaders have had to face in recent times. As volatility in the market is ongoing, most businesses are forced to make changes and adapt to the challenges the pandemic necessitates. We have seen new technologies and more digital work environments than ever. These adaptations have resulted in a significant increase in technology investments and software costs.
In this presentation, Mehboob Shrivasta, Senior Manager at IBM, will discuss the trends, business risk factors, and drivers of increasing software costs. He will share insights on proven strategies on how to save up to 30% in software costs.
Speaker's Profile
Mehboob Shrivastava is a senior manager at IBM. He is a business process/application consultant and a ServiceNow Certified Implementation Specialist. He has a comprehensive understanding of the ServiceNow enterprise product suite (including core process areas in ITAM, GRC, FSM, PPM, APM, SOM, and others, such as ITOM, ITBM (strategic portfolio management), ITSM, and Security Operations), as well as orchestration and integrations.
He is a risk management professional and a Big Four alumnus with 14 years of experience in business process consultancy, project management, ServiceNow, RSA Archer, MetricStream GRC, NERC-CIP, ISO 27001/27018/27017, NIST 800-53, data security governance and security risk management, and IT audit of public & private entities.
Meeting Agenda
11:45 am - Check-in and virtual networking
11:55 am - Welcome and Housekeeping
12:05 pm - Presentations with Q & A
12:50 pm - Wrap up
12:55 pm - Meeting Adjourned
Register now for this great event!