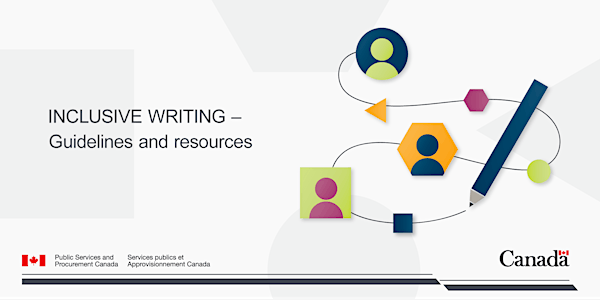 Multiple dates
Presentation on inclusive writing guidelines and resources
Bilingual presentation on inclusive writing: Guidelines and resources.
By Le Portail linguistique / the Language Portal
When and where
Date and time
Tue, Dec 20, 2022 10:30 AM - Wed, Apr 12, 2023 11:30 AM PST
About this event
Want to write more inclusively in English or French? Looking for inclusive writing principles and techniques to help you do just that? You can now consult the Guidelines for Inclusive Writing on the Language Portal of Canada!
The Guidelines are designed to help the federal public service and any other organization that wants to produce writing free of discrimination based on sex, gender, race, ethnicity, disability or any other identity factor. The Guidelines outline principles for writing inclusive texts and describe practical techniques to use in different contexts. Another new resource is the Inclusionary and its French counterpart, the Inclusionnaire, which can help you find inclusive alternatives to gendered words and expressions.
The Guidelines and the collections of inclusive solutions were developed by the Interdepartmental Working Group on Inclusive Writing, which is co chaired by Public Services and Procurement Canada (represented by the Translation Bureau), Women and Gender Equality Canada, and Canadian Heritage. These resources underwent extensive consultations with equity, diversity and inclusion networks, language professionals and communications specialists.
About the organizer
Le Portail linguistique du Canada est une initiative du Bureau de la traduction qui s'adresse à l'ensemble de la population canadienne. Il s'agit d'un site Web qui permet d'accéder gratuitement à une vaste gamme de ressources linguistiques, y compris à la banque de données terminologiques TERMIUM Plus®, en anglais et en français.
Toute personne qui souhaite améliorer sa connaissance de la langue peut tirer profit du Portail. Il suffit d'aller au canada.ca/nos-langues pour accéder à 23 000 pages de ressources d'aide à la rédaction et à la traduction.
-----------------------------------------------------------------------------------
The Language Portal of Canada is a Translation Bureau initiative intended for the use of all Canadians. This website provides free access to a wide range of English and French language resources, including the TERMIUM Plus® terminology data bank.
Anyone who wants to improve their language skills can benefit from what the Portal has to offer. Just go to canada.ca/our-languages for access to 23,000 pages of writing and translation resources.