About this Event
Pride Toronto is partnering with Trace Labs to present a full day Missing Persons OSINT CTF. This event will feature teams of professional investigators and amateur enthusiasts collaboratively conducting online searches for Missing Persons while sharpening their cyber skills.
Refreshments and lunch will be provided!
Individuals of all skill levels are encouraged to participate!
A walkthough of how the CTF works, various tools and techniques participants can leverage, and mentorship support from members of the Security Compass team will be provided.
Looking for a team? Join our slack group here, teams are forming as we speak in our #prideto channel!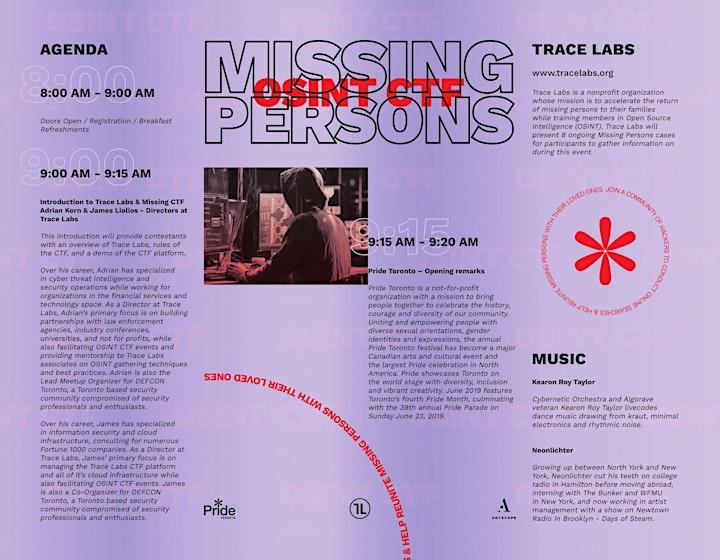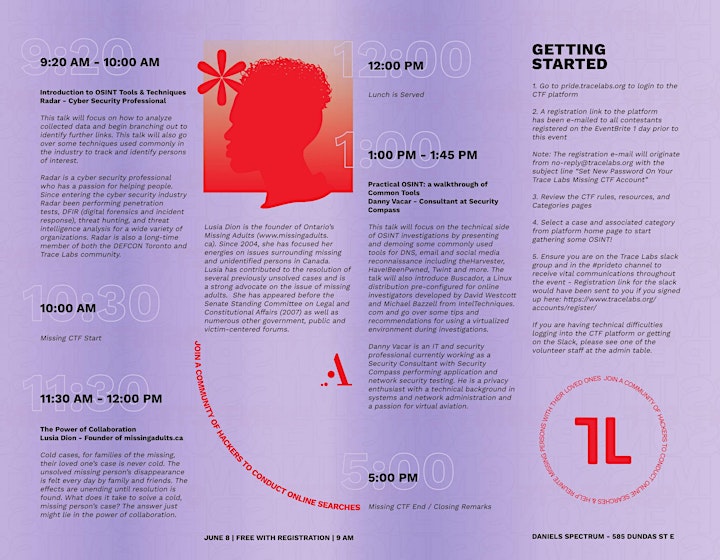 What is Trace Labs and how does the Missing CTF work?
Trace Labs is a nonprofit organization whose mission is to accelerate the reunification of missing persons with their families while training members in Open Source Intelligence (OSINT).
The missing persons issue is getting worse and requires modern and scalable solutions at various levels to help mitigate risk to society. Trace Labs leverages an intelligence platform that enables the of collection of OSINT to power these crowdsourced community CTF events. These CTF events allow missing persons to receive the attention that is needed early in the search process.
This event will be comprised of 8 missing persons from the Greater Toronto Area.
Teams are allowed to have up to 4 members. When creating a team, you will have to set a password and provide that to other attendees who wish to join your team.
If you are not familiar with the Trace Labs CTF, the point system is documented here: https://www.tracelabs.org/getinvolved/ctf/
Rules: https://www.tracelabs.org/getinvolved/ctf/ctf-rules
Prizes for top 3 placed teams are as follows:
1st place - Up to 4 $100 amazon gift cards. Security Compass hoodies, Hunchly Licenses & 1 Intel Techniques Virtual Training License
2nd place - Up to 4 $50 amazon gift cards + Security Compass T-shirts
3rd place - Up to 4 $25 amazon gift cards + Swag bag
Follow us on Twitter to stay up to date with details around the event: https://twitter.com/tracelabs
How to Prepare for the Event
1. Have a personal laptop ready to bring to the event
Note: it is highly recommended to not use a work laptop
2. Get onboarded to our Missing CTF platform
You will be e-mailed a link to register on the CTF platform one day prior to the event.
The registration e-mail will originate from "no-reply@tracelabs.org" with the subject line "Set New Password On Your Trace Labs Missing CTF Account"
3. Join our slack group here
Best place to keep track of communications for the event is in our slack group so please do sign up prior!
4. Prepare Your "Work Environment" ahead of time to help you stay anonymous when gathering OSINT on the missing persons at the event
Recommended to use a virtual machine or run a Linux distribution such as Buscador
Buscador is a Linux distribution built specifically for OSINT investigations that comes with several pre-installed OSINT tools
An installation guide for Buscador can be found here: https://null-byte.wonderhowto.com/how-to/use-buscador-osint-vm-for-conducting-online-investigations-0186611/
Windows and MacOS operating systems will work as well, but you will be responsible for configuring/installing your own tools
Setup your browsers and plugins such as EXIF Viewer plugins.
Use a VPN or use TOR. You likely want to hide your trail.
Setup burner social media accounts (Facebook, LinkedIn, Instagram, Twitter, Google +, etc.) - Not recommended to be logged into your own personal social media account when viewing profiles of missing persons
If you have any questions, please reach out to us at info@tracelabs.org