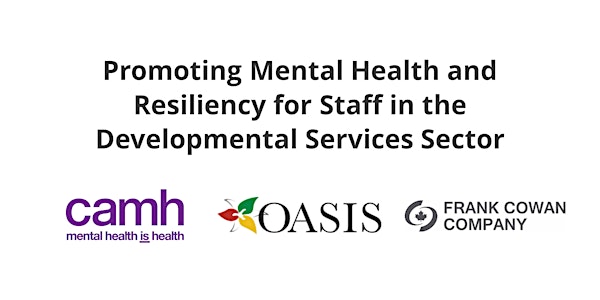 Promoting Mental Health & Resiliency for Developmental Services Staff
Join us for a one-hour introduction to mental health promotion and resiliency for staff in the Developmental Services sector.
About this event
This webinar targets the unique conditions and needs of staff working in the Developmental Services sector during COVID-19. The session will be hosted by an interprofessional team of clinician-scientists at the Azrieli Neurodevelopmental Centre at the Centre for Addiction and Mental Health (CAMH). During the session, participants will:
increase their understanding of mental health and resiliency, as well as available mental health supports;
identify skills and strategies to manage stress and anxiety;
engage with colleagues around the province to support community building across the sector.
All participants joining the session will receive an email confirmation of their attendance.