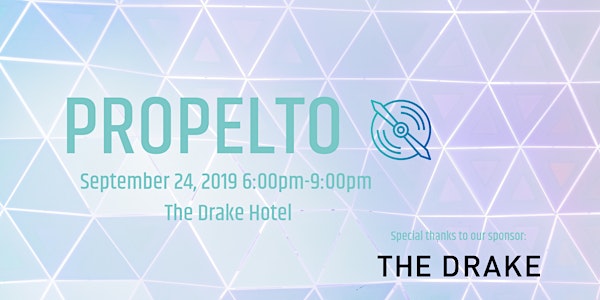 PropelTO September Event at The Drake
PropelTO is an informal, free networking community for Toronto travel professionals. This month join us at The Drake Hotel.
Date and time
Tue, Sep 24, 2019 6:00 PM - 9:00 PM EDT
Location
The Drake Hotel - North Lounge 1150 Queen Street West Toronto, ON M6J 1J3 Canada
About this event
WHAT TO EXPECT
Join us on September 24 at Drake Hotel in the North Lounge from 6-9pm with your colleagues, for a showcase of their properties and some informal networking with a round of drinks sponsored by The Drake. Connect with industry professionals, check out the Drake's beautiful spaces, and stick around as you could win a prize! The first hour of the event will be open to The Drake's partners and clients, and the remaining two hours are reserved for PropelTO members.
DRAKE HOTEL PROPERTIES
Drake Hotel Properties have established themselves as not just an arts-infatuated hospitality brand, but as a local cultural community centre; more than a place to eat, drink and sleep and shop, each unique property is filled with personality and buzzing with energy. They are honoured to provide one of Canada's most unique and sought after hotel and culinary, arts and retail experiences.
Their properties include The Drake Hotel, Drake Devonshire Inn, and Drake Motor Inn. Each offering reflects its unique neighbourhood and invites guests to experience The Drake's blend of bespoke hotel, classic general store and cultural community centre while enjoying seasonal menus, a deep cocktail list, carefully curated curiosities and genuine hospitality excellence. For more information, visit thedrake.ca or @thedrake.
PROPELTO
PropelTO is born out of an unshakeable feeling that the travel industry needs to connect more. All travel industry peers are welcome. We welcome anyone from an airline, hotels, travel agents, tour operators, brand representation companies and tourism boards, travel marketers, travel lawyers, travel writers, travel media, tour guides, travel tech startups, travel office admin and accounting staff, HR, trainers, agency managers, bosses, owners and interns, students, those seeking employment, and anyone in between!
We're taking over the travel industry, should we save you a spot?
Your PropelTO Board,
Iris, Amanda, Annie, Zach, Devin, Max, Marc, Adam
Special thanks to our sponsor, The Drake Hotel.