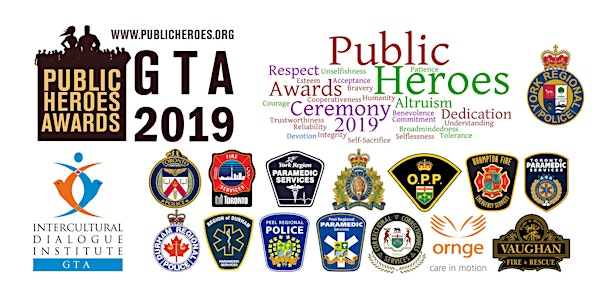 Public Heroes Awards Media Launch and Youth Recognition
By Intercultural Dialogue Institute GTA
Date and time
Thu, Nov 22, 2018 10:15 AM - 11:30 AM EST
Location
Community Safety Village of York Region Bruce's Mill Conservation Area 3291 Stouffville Road Stouffville, ON L4A 7X5 Canada
Description
You are cordially invited to attend
GTA PUBLIC HEROES AWARDS 2019 MEDIA LAUNCH & YOUTH RECOGNITION
For the past 8 years, Intercultural Dialogue Institute (IDI) GTA has been organizing the Public Heroes Awards (www.PublicHeroes.org) to recognize the outstanding members of the police, fire and paramedic services in the GTA as well as RCMP 'O' Division, ORNGE, OPP, Corrections Ontario and Canadian Armed Forces. Officers are nominated for the award by the public or by their peers, and selected by a prestigious hosting and selection committee based on three criteria: "altruism", "dedication", and "community involvement".
Every year IDI Toronto organizes a media launch to kick off the nomination process for Public Heroes Awards. This event is also the venue for recognition of the youth, future Public Heroes. At the media launch, youth is recognized, who has demonstrated outstanding performance through participation in volunteer, co-op education, or cadet programs in first responder services, and Canadian Armed Forces.
Media Launch for GTA Public Heroes Awards 2019 will be co-hosted by York Regional Police at Community Safety Village of York Region on Nov. 22nd, 2018, 10:15am.
For more information, please visit: www.publicheroes.org
About the organizer
Intercultural Dialogue Institute is a non-profit organization whose purpose is to advance social cohesion through personal interaction by promoting respect and mutual understanding among people of all cultures and faiths through dialogue and partnership.
Intercultural Dialogue Institute aims to promote enduring interfaith and intercultural cooperation, tolerance and dialogue by sharing our differences and similarities in an effort to enhance civil society, to promote the development of human values, and to advance diversity and multiculturalism in the society. The Institute aims to eliminate or reduce false stereotypes, prejudices and unjustified fears through direct human communication. By this mission IDI aims to contribute to improvement of diversity, pluralism and multiculturalism throughout Canada.
IDI was formed in 2010 as a joint effort of several organizations and currently have 11 chapters* and regional offices in major cities of five Canadian provinces.
* GTA branch of IDI was established with the name Canadian Interfaith Dialogue Centre in 2004. Until July 2013 it had been known as Intercultultural Dialogue Institute (IDI) Toronto. In July 2013 it was re-branded as IDI GTA to represent the whole Greater Toronto Area.
Refund Policy: you can get a full refund if you cancel at least 72 hours before the event. If you cancel within 24 to 72 hours before the event, the refund amount is 50% of the ticket price. No refund will be issued for cancellations within 24 hours before the event or anytime after the event.