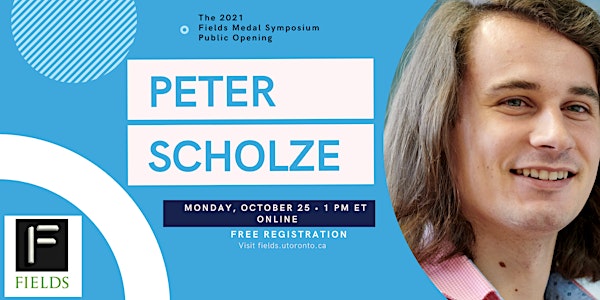 Public Opening of the 2021 Fields Medal Symposium: Peter Scholze
Join us for the Public Opening of the 2021 Fields Medal Symposium, featuring a interview and panel discussion with Peter Scholze
About this event
Join us for the Public Opening of the 2021 Fields Medal Symposium, featuring an introduction to the work of Peter Scholze by Jared Weinstein, an interview with Peter Scholze (Fields Medal 2018) and a panel of distinguished mathematicians discussing his work. Welcome and introductions will be given by guests from academia and government.
PROGRAM
Welcome and Opening Remarks
V. Kumar Murty, Fields Institute
Introduction to the work of Peter Scholze
Jared Weinstein, Boston University
Interview of
Peter Scholze, Max Planck Institute for Mathematics
Interviewer: Megumi Harada, McMaster University
Panel Discussion
Moderator: Megumi Harada
Panellists:
Ramla Abdellatif, University of Picardie Jules Verne
Hélène Esnault, Free University of Berlin
Eugen Hellmann, University of Münster
Peter Scholze, Max Planck Institute for Mathematics
Remarks and Messages
Elizabeth Dowdsewell, Lieutenant Governor of Ontario
Armin Laschet, Ministerpräsident von Nordrhein-Westfalen
Sabine Sparwasser, German Ambassador to Canada
Alejandro Adem, Natural Sciences and Engineering Research Council of Canada
Carlos E. Kenig, International Mathematical Union
Rhonda L. Lenton, York University
And more to be announced.
For updated information on this event, please visit our website: http://www.fields.utoronto.ca/activities/21-22/fieldsmedalsym-opening .
**If you have any trouble registering for this event, please email communications@fields.utoronto.com.