Bands and musicians of all sorts perform in this series of exciting and eclectic shows on stages across Ontario!
About this event
Govfest is an annual music and cultural show organized by public servants to celebrate music, arts, and to support community-based projects around the world.
The Battle Stages
From November 1st to 15th there will be multiple band performances at venues all over the province. Bands will compete on our Battle Stages for your vote and their chance to proceed into either The Knock Out Round or the Grand Finale.
The Knock Out Round:
On November 21st and 22nd these amazing shows will feature the second place bands from the Battle Stages. Two finalists will be chosen based on ticket sales– the People's Choice– and the Judges Choice. These bands will join the winners of the Battle Rounds to perform at the Grand Finale.
Various Locations Across Ontario
Downtown Toronto include:
The Super Market - 268 Augusta Ave, Toronto
The Hideout - 423 College St, Toronto
Adelaide Hall - 250 Adelaide St W, Toronto
Black Swan Tavern - 154 Danforth Ave, Toronto
Regional Locations include:
Kingston - BLU Martini - 178 Ontario, Kingston - Saturday, November 9th
Mississauga - $Company - 295 Enfield, Mississauga - Thursday, November 14th
Visit our website for more details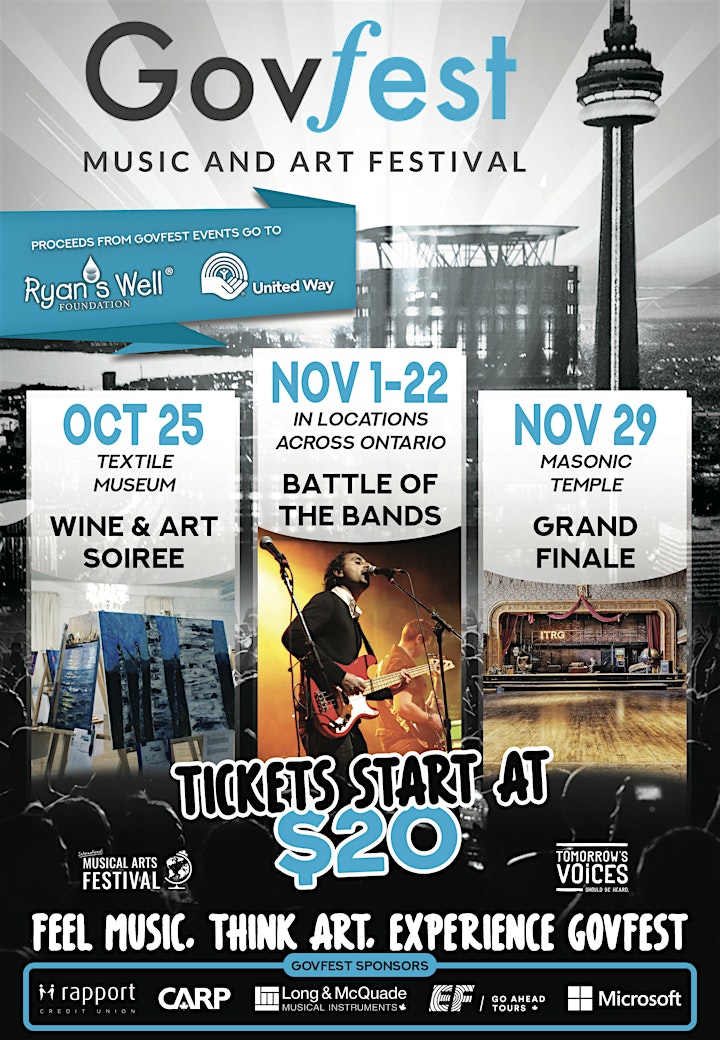 Organizer of Public Service Battle of the Bands - Battle + Knockout Rounds