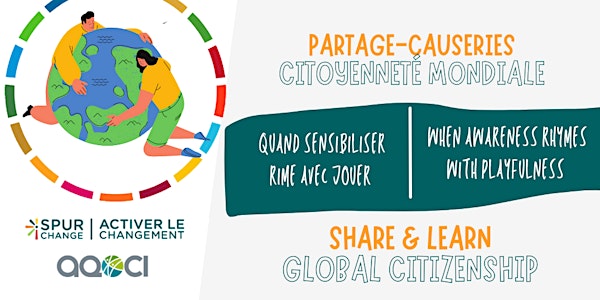 Quand sensibiliser rime avec jouer |When awareness rhymes with playfulness
Sales Have Ended
Registrations are closed
Thanks for registering to this training series. Stay tuned for more information!
Sales Have Ended
Registrations are closed
Thanks for registering to this training series. Stay tuned for more information!
Série de partage et causeries sur la citoyenneté mondiale d'Activer le changement | Spur Change Share & Learn Series on Global Citizenship
About this event
Quand sensibiliser rime avec jouer
Activer le changement, en collaboration avec l'Association québécoise des organismes de coopération internationale (AQOCI), a le plaisir d'offrir cette 4ème séance de la nouvelle série Partage-causeries dédiée aux enseignants-es du primaire et du secondaire intéressés-es par la citoyenneté mondiale.
Quoi: Souhaitez-vous vous inspirer d'un exemple concret pour potentiellement développer un jeu permettant de sensibiliser vos élèves à divers enjeux mondiaux? Cette séance de la série Partage-Causerie est pour vous!
En participant à cet atelier, vous pourrez :
Découvrir les ingrédients gagnants pour créer un atelier de sensibilisation en contexte d'éducation à la citoyenneté mondiale afin de permettre aux élèves d'avoir des impacts positifs dans leur milieu et dans le monde;
Démontrer comment la sensibilisation par le jeu permet d'aborder efficacement des sujets complexes;
Vous inspirer à partir d'un exemple concret développé en Estrie (Québec);
Partager des pistes d'action afin d'augmenter la portée des activités d'ÉCM en classe.
Qui : Cette séance sera animée par Dominique Forget et Yoland Bouchard.
Dominique Forget est agente d'éducation à la citoyenneté mondiale au Carrefour de solidarité internationale (Sherbrooke, Québec) depuis 2013. Titulaire d'une maîtrise en science politique et d'un certificat de deuxième cycle en pédagogie, son champ d'intérêt principal est l'importance du développement des compétences citoyennes à l'adolescence. Par son travail au CSI, elle contribue à éveiller les esprits et nourrir les valeurs de solidarité, de justice sociale, de démocratie et de participation citoyenne auprès de la population estrienne, notamment auprès des jeunes du secondaire. Elle collabore étroitement avec plusieurs enseignant.es afin de développer du contenu en ÉCM qui engagera les jeunes à devenir des agent.es de changement.
Yoland Bouchard est diplômé de l'Université de Sherbrooke en histoire et pédagogie. Il a enseigné pendant 34 ans l'histoire du Canada, l'histoire du 20e siècle et le cours Monde contemporain, au Collège Mont Notre-Dame de Sherbrooke. Lauréat des Prix d'histoire du Gouverneur général pour l'excellence en enseignement de 2015, il a maintenant pris sa retraite de l'enseignement et se consacre à la préservation du patrimoine religieux.
Quand : Mercredi 16 février
Heure : 17h00 à 19h00 HNE (heure de Montréal)
Date limite d'inscription : Vous avez jusqu'au 15 février pour vous inscrire!
En espérant vous y voir et échanger avec vous !
******
When awareness rhymes with playfulness
Spur Change in collaboration with the Association québécoise des organismes de coopération internationale (AQOCI) is pleased to offer this 4th session of the new Share & Learn Series dedicated to primary and secondary teachers interested in Global Citizenship.
What: Would you like to use a real-life example to potentially develop a game to educate your students about various global issues? This session of the Share & Learn series is for you!
Through participation in this workshop, you will:
Discover the winning ingredients for creating an awareness workshop in a GCE context to enable students to make positive impacts in their communities and the world;
Demonstrate how awareness through play can effectively address complex topics;
Be inspired by a concrete example developed in the Eastern Townships (Quebec);
Share ideas for increasing the impact of classroom GCE activities.
Who: This session will be facilitated by Dominique Forget and Yoland Bouchard.
Dominique Forget has been a global citizenship education officer at the Carrefour de solidarité internationale (Sherbrooke, Quebec) since 2013. With a Master's degree in Political Science and a graduate certificate in Pedagogy, her main field of interest is the importance of developing citizenship skills in adolescence. Through her work at CSI, she contributes to awakening the minds and nurturing the values of solidarity, social justice, democracy, and citizen participation among the population of the Eastern Townships, particularly among high school students. She works closely with many teachers to develop GCE content that will engage youth in becoming agents of change.
Yoland Bouchard is a graduate of the University of Sherbrooke in History and Pedagogy. Yoland has taught Canadian history, history of the 20th century, and courses on the contemporary world at the college Mont Notre-Dame of Sherbrooke for 34 years. Having been recognized with a Governor General Award of History for excellence in teaching in 2015, he has since retired and now dedicates himself to preserving religious heritage.
When: Wednesday, February 16th
Time : 5:00 pm to 7:00 pm EST (Montreal time)
Deadline to register: You have until February 15th to register!
Hope you will register and tune in!
Contact info / Personnes contacts :
Marie-Catherine Thouin (Spur Change/Activer le changement): mariecatherine.thouin@acgc.ca
Nancy Burrows (AQOCI): NBurrows@aqoci.qc.ca