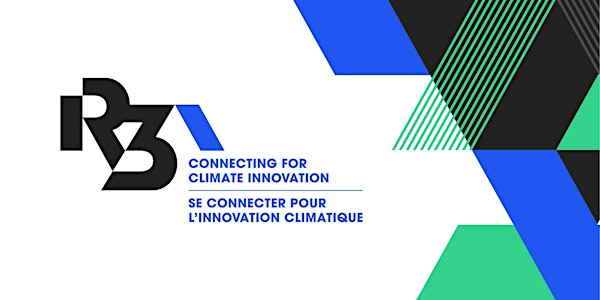 R3 Connecting for Climate Innovation/Connecter pour l'innovation climatique
Together we build a sustainable future for NB. / Ensemble, nous bâtissons un avenir durable pour le N.-B.
By The New Brunswick Innovation Foundation
Date and time
Thu, Feb 23, 2023 1:00 PM - 6:30 PM AST
Location
Fredericton Convention Centre 670 Queen Street Fredericton, NB E3B 1C2 Canada
Refund Policy
Contact the organizer to request a refund.
Eventbrite's fee is nonrefundable.
About this event
Join us at this year's R3 Connecting for Climate Innovation Forum where researchers, entrepreneurs and decision-makers come together to meet the challenges of the climate crisis and create opportunities in the low-carbon economy.
Climate change is complicated but New Brunswick's innovative and entrepreneurial spirit is up to the task. A smarter future requires new perspectives, cleaner technology, a collaborative spirit, and a drive for innovation.
Connect: Meet fellow innovators and stakeholders from around the province to foster collaboration and spark new ideas.
Educate: Learn about the importance of meeting the challenges of climate change. You will better understand how we can work together to create prosperity by solving problems that affect us all.
Empower: Understand how New Brunswick industry, businesses, researchers, innovators, and start-ups can leverage clean technology funding through NBIF programs.
****
Joignez-vous à nous lors du forum R3 Connecter pour l'innovation climatique de cette année, où chercheurs, entrepreneurs et décideurs se réunissent pour relever les défis de la crise climatique et créer des opportunités dans l'économie à faible émission de carbone.
Le changement climatique est compliqué, mais l'esprit d'innovation et d'entreprise du Nouveau-Brunswick est à la hauteur de la tâche. Un avenir plus intelligent exige de nouvelles perspectives, des technologies plus propres, un esprit de collaboration et une volonté d'innovation.
Connectez-vous : Rencontrez des collègues innovateurs et des intervenants de partout dans la province pour favoriser la collaboration et susciter de nouvelles idées.
Éduquer : Découvrez l'importance de relever les défis du changement climatique. Vous comprendrez mieux comment nous pouvons travailler ensemble pour créer la prospérité en résolvant des problèmes qui nous touchent tous.
Autonomiser : Comprenez comment l'industrie, les entreprises, les chercheurs, les innovateurs et les entreprises en démarrage du Nouveau-Brunswick peuvent tirer parti du financement des technologies propres grâce aux programmes de la FINB.
FOR MORE INFORMATION & AGENDA / POUR PLUS D'INFORMATIONS & L'AGENDA : https://nbif.ca/r3-2023
REGISTRATION INFORMATION / INFORMATIONS SUR L'INSCRIPTION
Registration for this one day forum includes access to keynote address, speaker sessions, student poster competition, nutritional breaks and a post-event networking reception.
DEADLINE TO REGISTER is TUESDAY, FEBRUARY 21 at 12:00pm AST. LA DATE LIMITE D'INSCRIPTION est MARDI 21 FÉVRIER à 12h00 (heure de l'Est).
What's the refund policy? / Quelle est la politique de remboursement ? Cancellations received on or before Friday, February 17, 2023, are eligible for a full refund minus $25 administration fee. Any cancellations after this date are not eligible for a refund. Les annulations reçues au plus tard le vendredi 17 février 2023 donnent droit à un remboursement intégral, déduction faite de 25 dollars de frais administratifs. Les annulations effectuées après cette date ne donnent pas droit à un remboursement.
Is my registration fee or ticket transferrable? / Les frais d'inscription ou mon billet sont-ils transférables ? Registrations are transferrable but must be submitted by request to Hilary Lenihan at hilary.lenihan@nbif.ca no later than 24 hours prior to the event. Les inscriptions sont transférables mais doivent être soumises par demande à Hilary Lenihan à l'adresse hilary.lenihan@nbif.ca au plus tard 24 heures avant l'événement.
How can I contact the organizer with any questions? / Comment puis-je contacter l'organisateur pour toute question ?
For questions regarding registration / pour toute question concernant l'inscription: hilary.lenihan@nbif.ca
For questions regarding conference agenda / pour toute question concernant le programme de la conférence : paul.thornton@nbif.ca
Student Poster Competition / Concours d'affiches pour étudiants
Students from New Brunswick's Research Institutes are invited to present a poster on their research project related to cleantech development, climate change adaptation, or environmental stewardship. For more information contact Eya Affes at eya.affes@nbif.ca
Les étudiants des instituts de recherche du Nouveau-Brunswick sont invités à présenter une affiche sur leur projet de recherche lié au développement des technologies propres, à l'adaptation au changement climatique ou à la gestion de l'environnement. Pour plus d'informations, contactez Eya Affes à eya.affes@nbif.ca