Description
Over the past year, Artist (and our amazing team member) Eman Elkadri has been working on a comic series about the experiences of racialized youth living in Canada. Join us as we launch and exhibit her work.

You can expect to see 40 unique comics about microaggressions, hear from Eman about her inspiration, as well as hear from some of the youth she worked with, plus learn more about what you can do. We will also be launching the Race Issues publication (thanks to a partnership with ActionDignity Youth PLACE Program). This is a free event that is open to all ages. The launch will take place on Thursday January 3 at The New Gallery (208 Centre Street South Calgary) at 6:30pm. Refreshments will be served during the launch.

The exhibit will continue during January 4 and 5 (12pm - 6pm).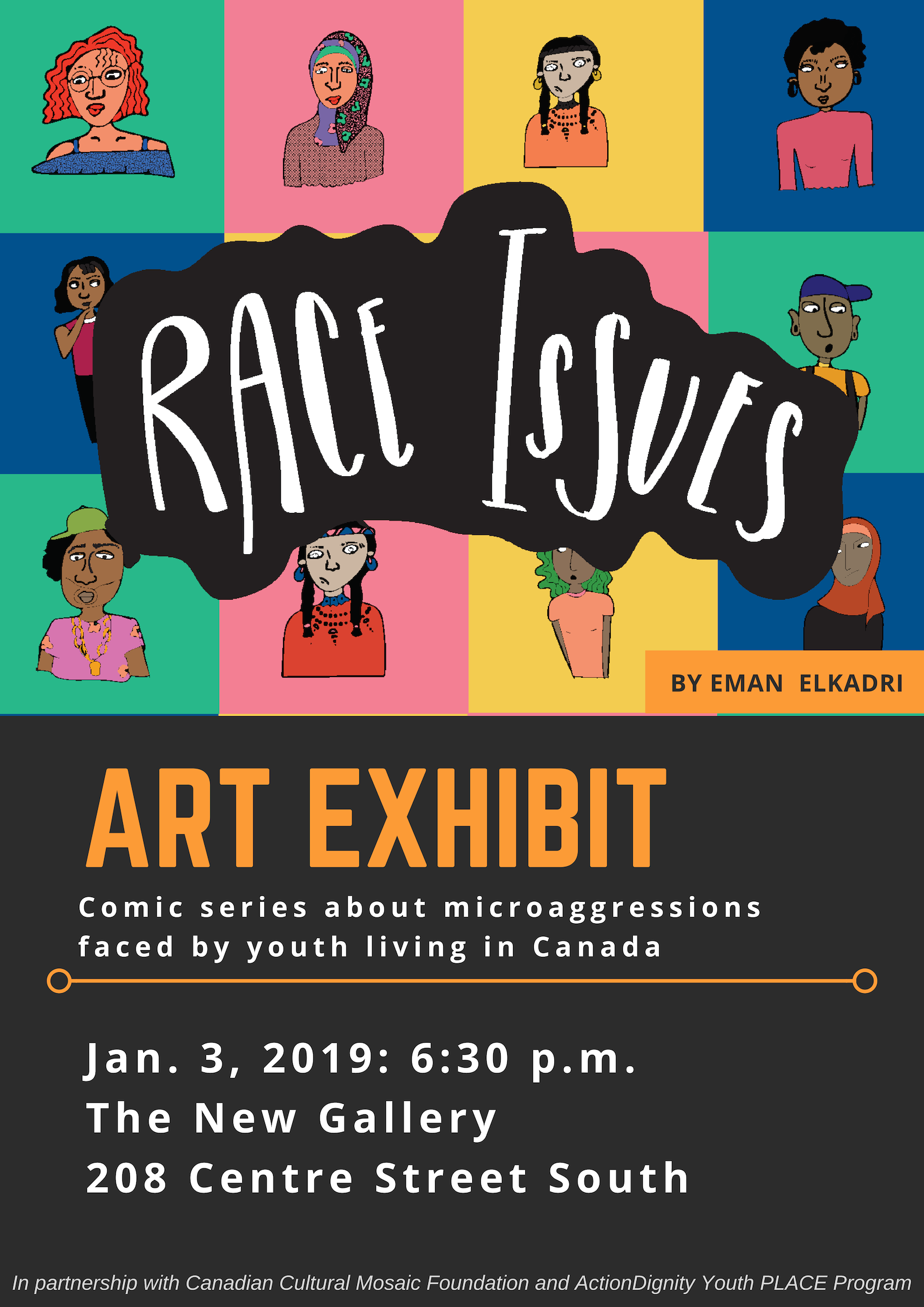 We would like to thank The New Gallery for their support and allowing us to use their space. This project has been created in partnership with Canadian Cultural Mosaic Foundation and ActionDignity Youth PLACE Program.

Location's Land Acknowledgement:
The New Gallery is located in the traditional territories of the Blackfoot and the people of the Treaty 7 region in Southern Alberta, which includes the Siksika, the Piikuni, the Kainai, the Tsuu T'ina, and the Stoney Nakoda First Nations. The city of Calgary is also home to Metis Nation of Alberta, Region III.
Organizer of Race Issues: A Comic Series Art Exhibit
Canada as a nation is made up of a rich cultural mosaic. The mosaic is based on the belief that Canada as a whole becomes stronger by having immigrants bring with them their cultural diversity for all Canadians to learn from. Through the mix of ethnic groups, languages and cultures that coexist within society, Canada values multiculturalism
Canadian Cultural Mosaic Foundation is a registered not-for-profit organization working to educate Canadians on multiculturalism and mitigate racism.
Vision: Educate Canadians  |  Mitigate Racism  |  Promote Multiculturalism