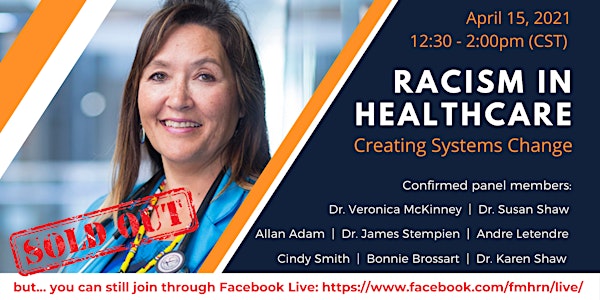 Racism in Healthcare Series: Creating Systems Change
Racism in Healthcare Series: Creating Systems Change, hosted by the Saskatchewan First Nations and Métis Health Research Network
About this event
*This event is now sold out but you can join us for the event through Facebook live: https://www.facebook.com/fmhrn/live/
Confirmed panel members:
Dr. Veronica McKinney, MD, CCFP, Director, Northern Medical Services
Dr. Susan Shaw, MD, FRCPC, CCPE, Chief Medical Officer, Saskatchewan Health Authority
Allan Adam, BA, Chief Executive Officer, Athabasca Health Authority
Cindy Smith, RN, Executive Director, Saskatchewan Registered Nurses Association
Andre Letendre, Cultural Systems Advisor, First Nations and Métis Health, SHA
Dr. Jame Stempien, BSc, MD, FCFP, CCFP-EM, CCPE, Provincial Department Head, Emergency Medicine, University of Saskatchewan
Bonnie Brossart, Chief Executive Officer, Saskatchewan Medical Association
Dr. Karen Shaw, MD, Registrar and Chief Executive Officer, College of Physicians and Surgeons of Saskatchewan
Facilitator: Dr. Holly Graham, RN, BA, BScN, MN, PhD, R.D., Psychologist, Indigenous Research Chair in Nursing, Assistant Professor, University of Saskatchewan
Access the suggested pre-readings for this event here.
The Saskatchewan First Nations and Métis Health Research Network (FMHRN), is hosting a three-part Racism in Healthcare: Creating Systems Change webinar series. The series builds upon an emerging national movement to bring real change to the problem of racism within healthcare, as highlighted by the death of Joyce Echaquan in Quebec in September 2020, and the investigative report In Plain Sight, on Indigenous-specific racism and discrimination in BC healthcare, released by Justice Mary Ellen Turpel-Lafond last November. We would like to engage in these discussions within Saskatchewan.In our 3-part webinar series we will explore how racism is addressed in and across health systems, licensing bodies, and organizations. We want to build awareness and action around what healthcare policy improvements are needed to mitigate racism and its inequitable impacts on health outcomes among Indigenous people.
This first webinar will focus on the ways in which Indigenous patients navigate our current health system, what processes and pathways they interact with when faced with a racist encounter, how complaints are managed within the health system and across regulatory bodies, and what response mechanisms exist to redress racism at the systems level.
We will set the stage for the first webinar with panel lead, Dr. Veronica McKinney, MD, CCFP, an Indigenous physician and Director of Northern Medical Services, who will provide a lay of the land for healthcare in the province. Dr. McKinney, who has Cree and Métis ancestry, is a graduate of the University of Saskatchewan's medical school, and she has decades of experience as a front-line practitioner, professor, and health care leader in Saskatchewan. She was named Physician Leader of the Year by the Saskatchewan Medical Association in 2020. Dr. McKinney uses her traditional cultural teachings when practicing medicine, and she is a strong advocate for Indigenous peoples' health, as she has both witnessed and experienced racism and inequities firsthand.
We will invite the panel members to respond, situating their responses within their own organizational context. The webinar will lead directly into a discussion among the panelists.
Our goal is to create safe spaces for courageous conversations, to learn from one another in order to collectively inform short- and long-term solutions to racism in our health system, and to lead others into this critical discourse.