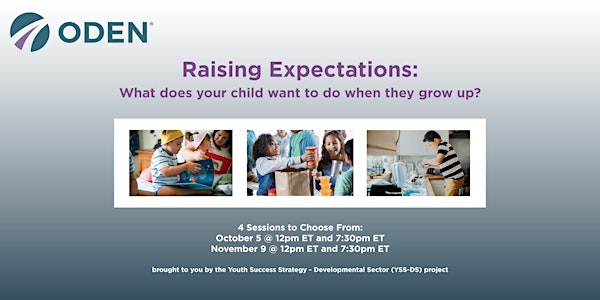 Raising Expectations: What does your child want to do when they grow up?
Raising Expectations: What does your child want to do when they grow up?
About this event
Sessions Dates to choose from (please select one):
October 5, 2021 @ 12pm ET
October 5, 2021 @ 7:30pm ET
November 9, 2021 @ 12pm ET
November 9, 2021 @ 7:30pm ET
Event Description:
Parents of children with developmental disabilities hear more about the deficits that their children will experience than the possibilities for their future. This narrative results in a lowering of aspirations from parents and educators for that child's future achievements including employment. The research clearly indicates that the expectations parents and others hold for that child, have a direct impact on successfully achieving employment.
Join ODEN and its member service providers to hear about the importance of having higher expectations for children with developmental disabilities early in life.
We will discuss:
The importance for chores and responsibilities at home
The need for extra-curricular activities in school and community that attitudes needed at work
How to promote participation of young children in community to build social and soft skills
And learn about programs in your community that support early exposure to employment
Audience:
This session is for anyone who is involved in the life of a child (0-12 yrs. of age) who has a developmental disability including:
Parents & Family members
Educators (teachers, educational assistances, service provider)
Health care providers (family doctors, physiotherapists)
Childcare providers
This session is part of the Youth Success Strategy funded by the Ministry of Children, Community and Social Services.