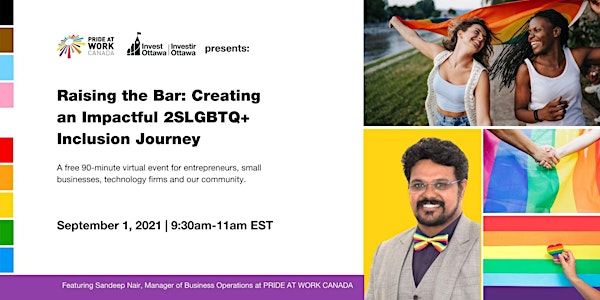 Raising the Bar: Creating an Impactful 2SLGBTQ+ Inclusion Journey
Invest Ottawa is honoured to host PRIDE AT WORK CANADA, one of a leading expert voices on 2SLGBTQ+ inclusion for this free educational event
About this event
Overview of the session:
"Informed approaches to inclusion create meaningful and sustainable change for organizations. They are critical to helping ensure every employee feels comfortable bringing their authentic selves to work. This, in turn, provides companies with the opportunity to leverage diversity and further excel in the delivery of their mission."
This training session aims to educate and support organizations of all sizes and from all industries to make progress on 2SLGBTQ+ inclusion in the workplace, sharing insights and best practices in Canada.
As a participant, you will gain an understanding of:
Why 2SLGBTQ+ inclusion is an important business imperative,
The benefits of developing an informed strategy that supports your overall business goals and aligns with your DEI strategy,
Key considerations and practical approaches to implementing 2SLGBTQ+ inclusion, and
Tools available to support you in your journey, including the 2SLGBTQ+ Workplace Audit Tool which enables companies to conduct a self-assessment leading to a valuable follow-up report and debrief strategy session.
This session will provide you with valuable insights on the following areas of inclusion:
Strategy & leadership
Community outreach,
Policies, practices and employee benefits,
Training and corporate culture,
Data collection,
ERG (Employee Resource Groups).
All are welcome and there is no cost to attend. We look forward to welcoming you to this important session!