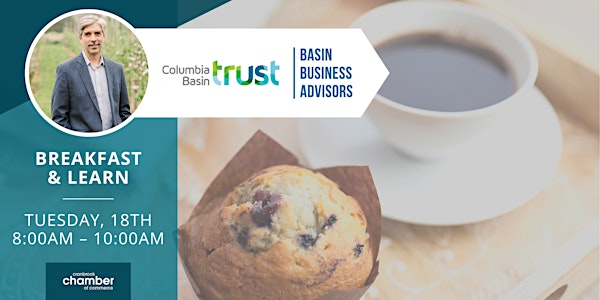 Rates are Rising: How Inflation and Rising Rates will Impact Your Business
Kicking off Small Business Week – Join us for a FREE event hosted by Basin Business Advisors Program: Be Rate Ready.
By Cranbrook Chamber of Commerce
When and where
Date and time
Tue, Oct 18, 2022 8:00 AM - 10:00 AM MDT
Location
Cranbrook Chamber Of Commerce 2279 Cranbrook Street North Cranbrook, BC V1C 3T3 Canada
About this event
TOPIC: Be Rate Ready
*coffee & muffins are included with this event!
Doors open at 8:00am
Event to start promptly
Looking to attend virtually? Select the 'Virtual Attendance' ticket and we'll email you a link!
—
Catering provided by Max's Place, and sponsored by: Better Business Advisors Program (BBA)
Rates are Rising: How Inflation and Rising Rates will Impact Your Business
The rising interest rates and high inflation affect every business in the Basin. Business owners must understand how these external forces are impacting their balance sheets and income statements.
IN THIS SESSION PARTICIPANTS WILL LEARN:
The connection between rising interest rates and inflation
Where you can find the effect of these two factors in your supply chain
Why inflation and higher interest rates will change your financial statements
How you can model the impact on your cash flow and predict the future of your business
This workshop is designed for business owners who want to understand how their business will change because of this new fiscal reality.
Come prepared to read a few financial statements and do a little math!
—
ABOUT OUR HOST | DANNY TURNER:
Danny Turner is a "numbers" guy; bringing 30 years of experience as a financial analyst as well as several lived experiences growing, leading, and selling businesses. As the Delivery Executive for the Basin Business Advisors Team, he leads the BBA team while delivering a straightforward and analysis-based coaching experience. Danny was in California during the dot-com boom of the '90s, in London at the start of the financial crisis of 2008, and worked in several industries across North America and Europe in between. However, his true calling is entrepreneurship.
Danny holds an MBA from the University of Oxford. He was a management consultant at Deloitte between successful runs at starting and selling companies. In 2016 he retired to run his family farm, Just-A-Mere Organic Farm in Creston. He volunteers on several boards and is the past chairperson of Fields Forward, a Creston Valley horticultural society that operates the Provincial Food Hub in Creston. An entrepreneur at heart, Danny enjoys sharing his experiences and employing an always-learning philosophy as he assists all-stage companies through his roles with the Columbia Basin Trust-funded Basin Business Advisors and Basin RevUp Programs.