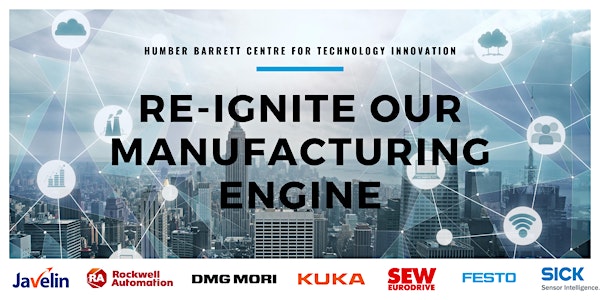 Re-Ignite our Manufacturing Engine - Virtual Webinar Series
Join us for a limited time one-week series of free virtual webinars presented by Humber College's Advanced Manufacturing Skills Consortium.
About this event
These free webinars are for employees from small to medium sized enterprises, Humber faculty, staff, and students, or anyone else who is interested in the topics outlined below.
It is time to recover and come back even stronger!
SEW Eurodrive Presents: Maintenance in the New Business Reality
Monday, November 9 at 11:00 AM - 12:00 PM EST
Join us to learn how you can transform your operations from being reactive to pro-active all while doing it remotely in the new reality we are living in, with your vendor partners. Showcasing DriveRadar and CDM (Complete Drive Management) as two examples of cloud based software tools used for remote maintenance.
SICK Presents: Customized Machine Vision Solutions to Improve Your Processes
Monday, November 9th at 3:00 - 4:00 PM EST
SICK is partnering with the Barrett Centre for Technology Innovation to present a webinar on customizing machine vision, which has become absolutely critical to a vast number of industrial automation processes.
In this webinar, Sourabh Banerjee, Product Marketing Manager for Software and Systems at SICK, guides you through how you can customize your machine vision solutions using SICK AppSpace.
SICK AppSpace is an engineering framework for your individual sensor applications that enables a manufacturer to easily integrate customizable 2D and 3D vision solutions tailored to your business.
There are ready-to-use solutions that can easily be configured without a vision or programming expert or can be modified to solve your particular application – by SICK or its partners.
It is the connection between programmable sensors and customer-specific applications, driven by a dynamic community of developers, enabling completely new and adaptive solutions for industrial automation.
Sourabh will provide a high-level overview of SICK AppSpace as well as a deep dive into the technology and its capabilities.
Festo Presents: New Innovations to support Advanced Manufacturing & I4.0
Tuesday, November 10 at 11:00 AM - 12:15 PM EST
Festo is a leading global manufacturer of pneumatic and electromechanical systems, components, and controls for process control and factory automation solutions. Celebrating more than 40 years of innovation in Canada, Festo continuously elevates the state of manufacturing with innovations and optimized motion control solutions that deliver higher performance and more profitable automated manufacturing and processing equipment.
Please join us on a journey outlining our presence in I4.0 with new innovations such as our VTEM Motion Terminal, which is opening up radical new dimensions in the world of automation as it is the world's first valve to be controlled by apps.
Festo Didactic (Educational Division) & Humber College entered into a partnership agreement in 2018.
Our aim is to provide capacity development in the area of advanced manufacturing and I4.0.
Learn more about our exciting initiative that is being facilitated at Humber College's Barrett Center for Technology Innovation.
KUKA Presents: How Robots help SMEs with Automation
Tuesday, November 10 at 3:00 - 4:00 PM EST
Today more than ever it is important to ensure that production remains reliable to guarantee the quality and on time delivery of parts to customers. As a result, increasingly more manufacturers are relying on robots to be their reliable and flexible workhorses, freeing human workers to focus on tasks that are more creative.
In this webinar, we will review several case studies that illustrate how SMEs are accessing sources of funding to start their robotic automation projects, dealing with flexible production requirements, and leveraging pre-engineered robotic solutions to reduce risk and save money.
DMG MORI Presents: Agile Manufacturing
Wednesday, November 11 at 11:15 AM - 12:15 PM EST
DMG MORI is a worldwide leader of cutting machine tools for turning and milling, as well as a comprehensive supplier in additive manufacturing. Please join us as we look into how DMG MORI and other companies are using Tulip to boost productivity and ramp up production with digital tools for business lines and front-line manufacturing staff.
Rockwell Automation Presents: Demystifying Industry 4.0 & IoT Software Platforms
Wednesday, November 11 at 3:00 - 4:00 PM EST
Rockwell Automation is a global leader in industrial automation and digital transformation. We connect the imaginations of people with the potential of technology to expand what is humanly possible,
making the world more productive and more sustainable. Please join us as we cover the basic understandable concepts of modern manufacturing, where you can start, and modern IoT platforms available today to drive business performance.
Javelin Presents: Overcoming Manufacturing Challenges with 3D Printing
Thursday, November 12 at 11:00 AM - 12:00 PM EST
3D printing doesn't stop at prototyping, learn how the best companies are leveraging Additive to overcome manufacturing challenges. Through specific industry applications, discover how these companies are saving time & money to get to market faster and more efficiently by incorporating additive at key points in their design & manufacturing processes including shop floor tools.