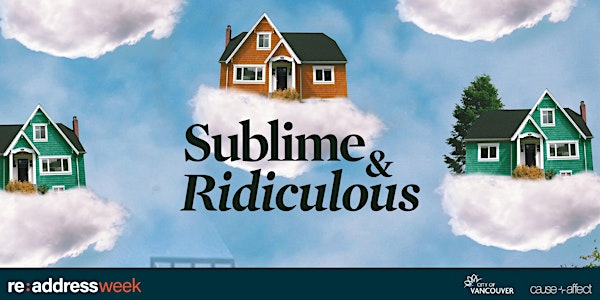 Re:Address Week
When and where
Location
Vancouver Convention Centre 999 Canada Place Vancouver, BC V6C 3E1 Canada
Refund Policy
Contact the organizer to request a refund.
Description
OVERVIEW
Re:Address Week hosted by the City of Vancouver is a collection of activities designed to improve the dialogue on housing affordability in Vancouver, learning from each other and the world, and letting the world learn from Vancouver. The key principles and themes of the Re:Address Week are focused on exploring solutions on how to best deliver a diversity of long term affordable housing solutions that are resilient, people centric and future focused.
The insights gathered throughout Re:Address will help the City of Vancouver discover breakthrough ideas by igniting shared leadership and collaboration from the local community, senior governments, private sector and non-profit sector. Through this learning process, the City of Vancouver will be better positioned to continue to build upon its successes.
Learnings from these major housing initiatives will also serve as a critical turning point to help shape the direction and growth plan for 'reset' the City of Vancouver's Housing and Homeless Strategy, five and ten year priorities. That will aim to accelerate affordability across the housing continuum despite market uncertainty and varying socioeconomic indicators.
For more information on each of the days events, please visit www.readdress.ca
---
The City of Vancouver uses the Eventbrite program for the convenience of the public. However, you need not use Eventbrite and you may register for this event by emailing the City of Vancouver at housing@vancouver.ca or calling 604-673-8285. You should provide personal information to us only by the methods that you authorize.
NOTE THAT ANY INFORMATION SUBMITTED TO EVENTBRITE WILL BE STORED ON SERVERS IN THE UNITED STATES AND ACCESSED IN THE UNITED STATES, AS AND FOR THE PURPOSES DESCRIBED IN THE "EVENTBRITE TERMS OF SERVICE AGREEMENT (BUYERS AND OTHER NON-ORGANIZERS)" (https://www.eventbrite.ca/tos/) AND THE INCORPORATED EVENTBRITE "PRIVACY POLICY" (https://www.eventbrite.ca/privacypolicy/).
Please refer to the foregoing Eventbrite documents for other information regarding the manner in which personal information that you submit will be collected, used, accessed and disclosed if you choose to use Eventbrite. By using Eventbrite, you will be deemed to agree to the terms and conditions stated in such documents, in relation to the information you submit to Eventbrite, commencing as of the date you submit such information to Eventbrite.
Personal information collected, whether via Eventbrite, email or telephone, will be used by the City of Vancouver only for the purpose of managing attendance at the [Event description]. Such personal information is collected by the City of Vancouver under the authority of the Freedom of Information and Protection of Privacy Act. Questions may be directed to the Director, Access to Information at 453 West 12th Avenue, Vancouver, British Columbia V5Y 1V4 or via telephone at 604-873-7999.