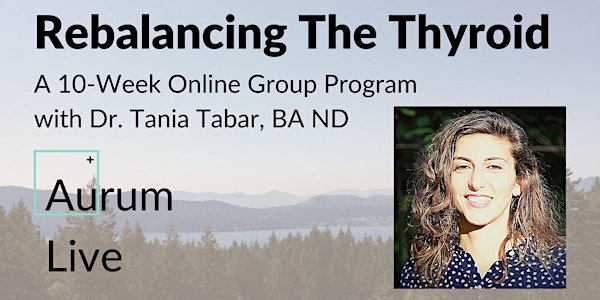 Rebalancing The Thyroid - A 10-Week Program with Dr. Tania Tabar, ND
A Professionally Guided Program for Thyroid Care - A 6-Part, 10-Week Group for Humans with Hypothyroidism
When and where
Location
Aurum Medicine & Wellness Clinic 721 Bloor Street West #Suite 302 Toronto, ON M6G 1L5 Canada
About this event
For those of us who have been diagnosed and are working on supporting our health and living with existing thyroid conditions, join this live online group naturopathic support program to complement your one-on-one treatments and optimize your health care spending.
What You Get:
Six 2 hour online live group sessions every two weeks for 10-weeks of support with Dr. Tania Tabar, Naturopathic Doctor and thyroid balancing professional*
Access to a community of people who are committed to working on overall natural health and well-being taking a similar approach
Membership in our private Thyroid Balancers Patient Facebook Group on Facebook exclusively for Thyroid Program Participants
Value:
Thyroid improvements can take time and effort. Researching diet and supplements to safely support alongside your medications, getting lab work done and getting hands-on treatments, while managing a busy personal, family and professional life can be a lot to manage both financially and energetically.
Many of us want to be able to do it naturally but don't have access to large health budgets for naturopathic medicine support.
Instead of paying for professional naturopathic care for your condition at $200/hour one-on-one, this unique group program is an opportunity to receive over 12 hours of live professional support under the care of a licensed Naturopathic Doctor.
The program fee is $600 and is non-taxable service.
This is a rate of $100/2 hour session ($50/hour) for all 6 sessions over a 10-week period.*
What You Can Expect from Your Facilitator:
Facilitation of six group sessions online, each with a different focus on thyroid health to give you a complete picture of your current thyroid health
A full individualized naturopathic treatment plan for your thyroid health including: dietary/nutrition suggestions, herbal and supplement prescriptions and lifestyle support
Lessons and explanations to provider a more detailed understanding of your thyroid and how it may be connected to your symptoms and overall health picture
A facilitated confidential space for sharing as an opportunity to hear other experiences, and professional answers to your health-related questions
Eligibility Criteria
In order to participate in the group program, applicants will be selected on an first-come first-served basis if they meet the following criteria. The participant must:
have a hypothyroidism diagnosis: hypothyroidism, under-active thyroid, subclinical hypothyroidism, Hashimoto's hypothyroidism etc.
be physically located in the province of Ontario
be a registered patient of Dr. Tabar, or a patient of a referring registered and licensed Naturopathic Doctor. If you are not yet a patient of Dr. Tabar, you may book in an initial one-on-one assessment at this link here.
have relevant blood work results completed before the start of the program (please speak with your naturopathic doctor)
What Is expected of Participants:
To attend a one-on-one visit with me as your naturopathic doctor to assess your thyroid and overall health if you are not yet a patient
To attend all six sessions over the 10-week course of the program
To be an active participant in whatever way works for you (e.g. making suggested changes, taking prescriptions, sharing your experience, etc.)
*If you have private insurance benefits that cover "Naturopath", receipts can be issued for $100 per 2 hour session with Dr. Tania Tabar, ND to attendees after each session.
Dates and Times:
Session 1: October 1, 2020 6-8pm
Session 2: October 15, 2020 6-8pm
Session 3: October 29, 2020 6-8pm
Session 4: November 12, 2020 6-8pm
Session 5: November 26, 2020 6-8pm
Session 6: December 10, 2020 6-8pm
How do I Register?
All participants have to be eligible for the program first by attending a free 15 minute screening appointment, bookable at this link here: https://aurum.janeapp.com/#/discipline/3/treatment/158.
If you are already eligible for the program, you may reserve your spot by completing program registration on Eventbrite, or by calling or emailing our office at 416-531-0008 or office@aurummedicine.ca.
You may pay by credit card, e-transfer to office@aurummedicine.ca (or debit in person).