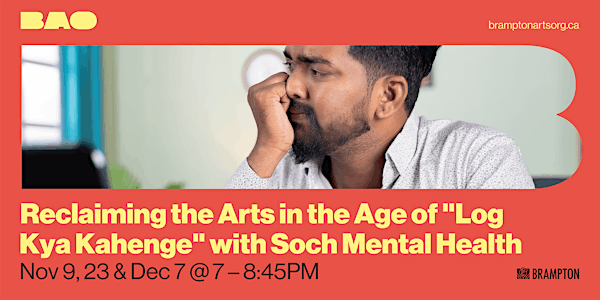 Multiple dates
Reclaiming the Arts in the Age of "Log Kya Kahenge"
Join us and Soch Mental Health for a three part virtual workshop series on South Asian mental health.
By Brampton Arts Organization (BAO)
When and where
Date and time
Starts on Wed, Nov 9, 2022 4:00 PM PST
About this event
Reclaiming the Arts in the Age of "Log Kya Kahenge," meaning "what will people say," is a three-part virtual workshop series facilitated by Soch Mental Health to support South Asian artists who face cultural stigma when pursuing a career in the arts.
This series will cover but is not limited to the following themes: coping with parental and societal pressures, the key for success, inner happiness, and how to cope with a lack of family support. Soch will help you build the skills and strategies required when dealing with these issues.
Sessions will take place on Wednesday, November 9th and 23rd and December 7th, 2022 from 7:00 - 8:45 pm. Each session will cover a different theme and the Zoom link will be sent out prior to each session.
You can choose to attend all three or select individual sessions. It is recommended that you attend all three sessions in order to benefit the most.
1. You are not Pagal. Understanding South Asian mental health (Wed., November 9, 2022)
Foundations of mental health
Understanding societal stigma and self-stigma
Mental health concerns and how they are perceived in the South Asian community
Community support / resources
2. I'm so stressed! Coping as a South Asian Artist (Wed., November 23, 2022)
Coping with internal and external socio-cultural pressures
Understanding stress and its impact on mental and physical well-being
Tips on how to cope with internal and external pressures
3. My life is so messed up! Healing through creative expression (Wed., December 7, 2022)
Dealing with personal trauma before using it for creative expression
Sharing your trauma as a South Asian artist when mental health is considered taboo
Tips on how to begin sharing your story safely
Accessibility:
Those who require additional assistance or support to participate are welcome to send us a request. Please request this assistance at least three days in advance of the event. To do so, or for any additional information please contact bao@brampton.ca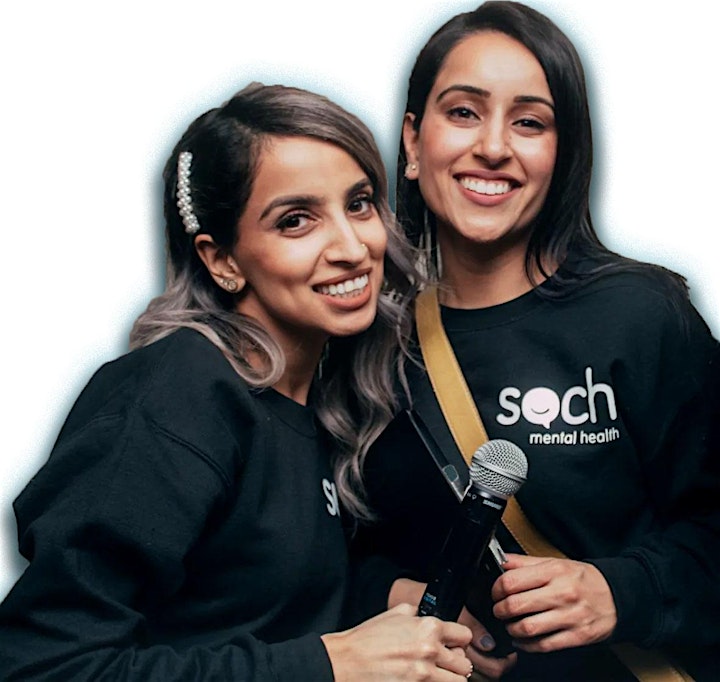 Maneet Chahal-Gill (RN, BScN, MSc) and Jasmeet Chagger (RN, BScN, MSc) are two passionate community change-makers. They have over a decade of mental health nursing experience and have closely witnessed their family and friends to struggle with mental illness. Along with working in the field of mental health, Maneet finished her Masters of Nursing in 2018 which looked at the South Asian Punjabi community's experience of accessing mental health services for depression in the Region of Peel. Jasmeet's Masters of Science in Nursing thesis explores the perceptions of alcohol use and the experience of Punjabi families impacted by problem drinking. Both best friends co-founded Soch Mental Health and kicked off their very first workshop in April of 2015. Soch is a community mental health initiative aimed at breaking the silence about mental health in South Asian families.
About the organizer
The Brampton Arts Organization (BAO), previously the Arts, Culture & Creative Industry Development Agency (ACCIDA), is a unique organization incubating within the City of Brampton. BAO champions Brampton's diverse creative community and advocates for the city's creatives. BAO aims to build a thriving, confident, and valued creative scene and cultural ecology in the heart of Brampton. In this, BAO is a key partner in fulfilling the City's ambitious vision for arts, culture and creative industries as articulated in the City's strategic vision and Culture Master Plan.