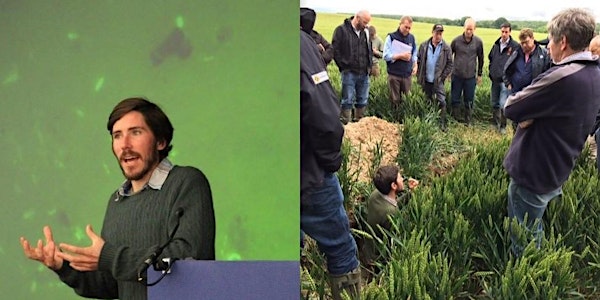 Redesigning towards Agroecology with Joel Williams of Integrated Soils
Event Information
Location
Mans Organics
Coaldale, AB T1M 1M7
Canada
Refund policy
Refunds up to 1 day before event
Description
Redesigning towards Agroecology
A practical exploration of the Efficiency, Substitution, Redesign (ESR) Framework
This course will outline strategies to increase nutrient use efficiencies, substitute inputs and redesign farm systems to utilise biological and ecological synergies in production focussed agriculture.
ESR & Plant-Microbe Interactions
•
Introduction to the ESR framework.
•
Using ESR strategies for step-wise change towards agroecology.
•
Root exudates and their role in linking above and below ground communities, building agroecosystem resilience and driving soil carbon sequestration.
•
Next generation plants for regenerative production systems – linking together plant genomes and soil microbiomes.
•
Soil Food Web 2.0 – updated ideas in SFW dynamics.
•
Supporting soil biology – substitution with seed treatments, biofertilizers and biostimulants.
Advanced Plant Nutrition
•
Increasing nutrient use efficiencies with foliar sprays.
•
Tips for a top foliar response – avoiding the spray and pray dilemma.
•
Uptake, translocation and utilisation of foliar applied solutes.
•
Functions of essential minerals in plant development.
•
Managing nutrient synergies and antagonisms.
•
Integrated Nutrient Management – integrating multiple tools to manage plant nutrition.
Workshops
•
Farm tour with Andrew Mans & Soils Q&A with Joel Williams.
System Redesign
•
Agroecology – integrating ecology into agronomy.
•
Redesigning with Diversity – cover crops, intercropping, multi-species pastures.
•
Effects of plant diversity and root exudates on soil biology and landscape function.
Date and time
Location
Mans Organics
Coaldale, AB T1M 1M7
Canada
Refund policy
Refunds up to 1 day before event