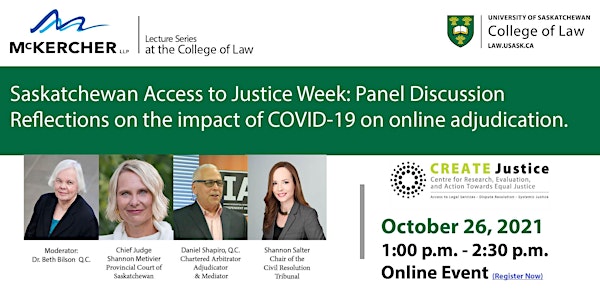 Reflections on the Impact of COVID-19 on Online Adjudication
Saskatchewan's Access to Justice Week
About this event
McKercher LLP Lecture Series presents: Reflections on the Impact of COVID-19 on Online Adjudication.
This session will involve a conversation reflecting on the past 18 months with respect to online adjudication and dispute resolution in a variety of settings. Panelists will address questions such as, what went well with advancements with online adjudication, and what could have gone better? What issues with online adjudication might have been prevented, with more time to prepare to turn to online adjudication, if we had known COVID-19 was going to happen? What would have been done differently? Given the advancements and potential shortcomings of online adjudication, what benefits does it provide from an access to justice perspective and how can issues be mitigated or addressed? What adjustments and tools are around to stay?
Moderator, Dr. Beth Bilson, Q.C., with panelists:
Chief Judge Shannon Metivier, Provincial Court of Saskatchewan
Shannon Salter, Chair of the Civil Resolution Tribunal
Daniel Shapiro, Q.C., Chartered Arbitrator, Adjudicator, & Mediator
Dr. Beth Bilson Interm Dean, College of Education University of Saskatchewan Dr. Bilson has a longstanding history at the University of Saskatchewan, holding bachelor's, master's and law degrees from here, followed by a PhD from the University of London. Dr. Bilson began teaching law at USask in 1979 and 20 years later was named the first female dean of the college, a role she filled three times throughout her career. Her extensive resume also includes serving as the first female chair of the Saskatchewan Labour Relations Board. A teaching trailblazer dedicated to supporting the advancement of women in academics and the legal profession, Dr. Bilson has been a role model and mentor for young female students and staff on and off campus for years. A highly regarded scholar and extensively published expert in administrative and labour law, she has earned a number of honours and distinctions throughout her career, including the YWCA Women of Distinction Award in 2014 and the Canadian Bar Association Louis St. Laurent Award of Excellence in
2015. She was awarded the designation of Queen's Counsel for Saskatchewan in 2000. As dean, she led the creation and implementation of the College of Law's first strategic plan, while also contributing off campus when she was appointed chair of the federal task force on pay equity in 2000. Dr. Bilson's wealth of institutional knowledge served her well working in university governance as University Secretary through to 2019. She has enjoyed her roles as faculty and administrator and is looking forward to working with College of Education faculty, staff and students throughout the year ahead.
Chief Judge Shannon L. Metivier Provincial Court of Saskatchewan Chief Judge Metivier received her L.L.B. from the University of Saskatchewan in 1992 and was called to the Saskatchewan Bar in 1993. She practiced law as an associate and then as a partner at McKercher LLP in Saskatoon. While in private practice, she was a civil litigator with a wide-ranging practice and actively involved in law firm administration. She was appointed to the Provincial Court of Saskatchewan, April 18, 2013. On March 1, 2021, she became the Chief Judge of the Provincial Court of Saskatchewan. She has a special interest in the intersection of mental health and the justice system and currently serves as Chairperson of the Saskatchewan Review Board.
Shannon Salter, BA, LLB, LLM Chair of the Civil Resolution Tribunal Shannon Salter is the Chair of the Civil Resolution Tribunal, Canada's first online tribunal resolving small claims, condominium disputes, and motor vehicle accident disputes. She is also an adjunct professor at the UBC Allard School of Law, teaching administrative law and legal ethics and professional regulation. She earned her BA and LLB from UBC, and her LLM from the University of Toronto. Ms. Salter was a BC Supreme Court judicial law clerk before practicing civil litigation at a large Vancouver firm. She has served as a vice chair of the Workers' Compensation Appeal Tribunal, vice president of the BC Council of Administrative Tribunals, and as a director of the BC Financial Services Authority. She is currently a Law Society of British Columbia disciplinary hearing panel member and regulatory sandbox advisory group member, board member of the Canadian Legal Information Institute (CanLII), and a director of Lexum. She is a co-author of the BC Administrative Decision Maker's Manual, as well as a number of legal journal articles. In 2021 was an ABA LRTC Women of Legal Tech Honouree and was previously named one of the 25 Top Most Influential Lawyers in Canada, one of Canada's New Law Pioneers by the Canadian Bar
Association and an Access to Justice All-Star by the National Self-Represented Litigants Project (NSLAP). She received the Adam Albright award for outstanding teaching by an adjunct professor in 2016. Ms. Salter is also a fellow of the National Centre for Technology and Dispute Resolution at the University of Massachusetts and a visiting professor at the Sir Zelman Cowan Centre in Victoria University in Melbourne. Ms. Salter is a frequent speaker at international conferences on online dispute resolution, administrative law, legal education, and the future of law and technology.
Daniel Shapiro, Q.C., C. Arb. Chartered Arbitrator, Adjudicator, & Mediator Daniel Shapiro is a Saskatoon lawyer who since approximately 2003 works exclusively as a dispute resolution neutral; mediator (including judicial mediation), arbitrator, referee, adjudicator, and more recently as an instructor and trainer. JD, College of Law U of S, 1978; called to SK bar 1979; member of Alberta bar for years prior to Mobility Agreement; undertook mediation training with Daniel Hamoline in 1994; appointed Queen's Counsel (Sask.) 1996, Chartered Arbitrator by ADR Institute of Canada 2003, arbitrator under Hepatitis C Class Actions Settlement by ON Superior Court; chaired SK Human Rights Code boards of inquiry; represented hundreds of plaintiffs in personal injury, medical negligence, assault matters; appeared before courts at all levels in SK and AB, BC Supreme Court, Tax Court of Canada, Supreme Court of Canada; past-president, SK Trial Lawyers Ass'n; taught Trial Advocacy, U of S Law, for a number of years; frequent guest lecturer in ADR, Aboriginal Justice and Labour Arbitration. Appointed Charter Member, Canadian Association of Distinguished Neutrals (Arbitration and Mediation), August 2020. Recipient of Saskatchewan Trial Lawyers Association "Outstanding Lawyer Award," June 2020. Co-Instructed National Introductory Arbitration Course, ADR Institute of Canada/SK, 2020-ongoing. Appointed to Faculty, Foundation of Administrative Justice (tribunal training), 2021-ongoing. Senior Adjudicator under Indian Residential Schools (IRS) ADR program (Ted Hughes, Chief Adjudicator), from inception in 2003; Deputy Chief Adjudicator of IRS Adjudication Secretariat, which administered Independent Assessment Process (IAP), from inception in 2007 until July 2013 (Dan Ish, Chief Adjudicator); July 2013, appointed by then Ontario Chief Justice Winkler as Chief Adjudicator of IRS Adjudication Secretariat, until the Secretariat concluded its mandate on March 31, 2021. The IAP was part of the largest class actions settlement in Canadian history, dealing with over 38,500 abuse claims nationally. At its peak, the Secretariat had over 100 independent adjudicators throughout Canada, employing ~ 250 staff in Ottawa, Winnipeg, Regina, Vancouver. Throughout this period, Daniel also continued to preside over labour and other arbitration hearings and to serve as Vice-Chair of College of Physicians and Surgeons (Saskatchewan) Discipline Hearing Committee.
1 CPD Credit