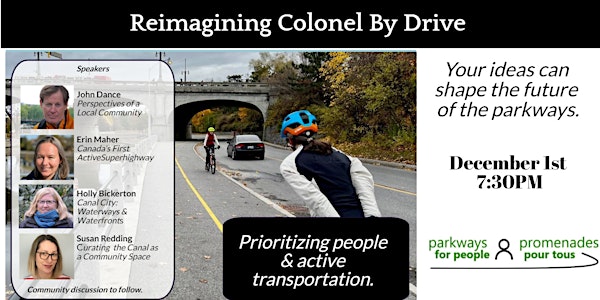 Reimagining Colonel By Drive
Join us for a community discussion that could help reshape the future of Colonel By Drive.
About this event
What does the Colonel By Drive of your dreams look like? Join us for a blue sky brainstorming session on what could be done with CBD if greater priority was given to people & active transportation. Cities all over the world have successfully reclaimed space from motor vehicles to advance cycling networks and provide restorative access to greenspace and waterways. Why can't Ottawa join them?
We will take some time at the beginning of the session to note any particular concerns of the community on the possibility of a one-year closure of CBD to motor vehicle traffic as proposed by Ottawa Centre MP, Yasir Naqvi. Understanding specific concerns and fears is an important part of the process.
Speakers from the community will then lead a discussion, presenting transformative visions for a re-imagined parkway.
1) Canada's 1st Active Transportation Superhighway.
2) Perspectives of a Neighbouring Community (OOE)
3) Canal City: the Canal as a Waterway and Waterfront
4) Curating Community Spaces along the Canal.
Then, we want to hear your ideas and vision.
Could a pilot provide necessary data on the implications of a car-free CBD to allow proper decision making?
Could CBD provide greater access to the Canal through docks and canoe launches?
How could the green spaces around the CBD be put to better use if there was a new arrangement?
What are other ideas that should be considered?
Sign up and join us on December 1st to be a part of shaping the future of the national capital parkways.
Zoom link to follow in your confirmation email and reminder before the event.