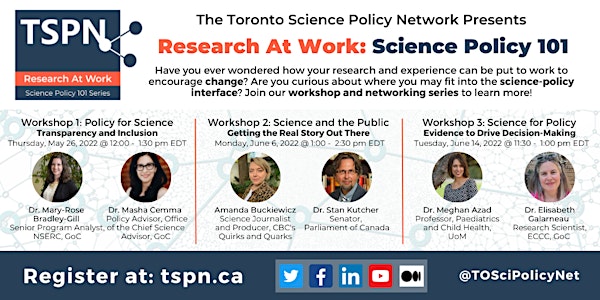 Research At Work: Science Policy 101 Workshop and Networking Series
This exciting and interactive series will teach you about the basics of science policy and the wide range of career paths in this space!
About this event
Research At Work: Science Policy 101
Have you ever wondered how your research and experience can be put to work to encourage change? Are you curious about where you may fit into the science-policy interface?
The immense challenges we face in society can only be solved with the evidence provided by science. It is critical that science trainees and experts like you engage with the issues and get involved! While moving between the academic and policy worlds can seem daunting, our Research At Work series will introduce you to relevant topics and give you the tools to start on this exciting and worthwhile journey!
So, do you want to know more about how researchers can (and do) affect policy? Are you curious about a career in government or science advocacy? Are you passionate about educating the public about important topics in science?
The Toronto Science Policy Network (TSPN) invites you to join us for Research At Work, a workshop and networking series designed to teach you about the basics of science policy and connect you with experts engaged in this space in different ways. The series consists of three workshops and a networking event (all dates/times listed in EDT):
Research At Work 1: Policy for Science – Transparency and Inclusion
Thursday, May 26, 2022 – 12:00 - 1:30 PM
Research At Work 2: Science and the Public – Getting the Real Story Out There
Monday, June 6, 2022 – 1:00 - 2:30 PM
Research At Work 3: Science for Policy – Evidence to Drive Decision-Making
Tuesday, June 14, 2022 – 11:30 AM - 1:00 PM
Research At Work 4: Your Place at the Science-Policy Interface
Thursday, June 23, 2022 – 5:30 - 7:00 PM
We welcome you to register for as many events as you'd like – there is no requirement to participate in all four, though each event is distinct and your experience will be augmented the more events you attend. Additionally, each workshop you attend will enter you into a raffle to win one of sixteen $10 UberEats gift cards you can put towards purchasing refreshments for the virtual networking event (or whenever you wish).
Each 90-minute Research At Work workshop will consist of: (1) an introduction to the topic; (2) mini-talks and a guided discussion with our experts (see below) where they will share some details of their career journey and how it fits into the web of science policy; and (3) a group case study exercise where we will seek to implement what we've learned to solve science policy challenges inspired by our experts' real-life experiences.
During the 90-minute Research At Work networking event, participants will be connected (based on interest) to experts and TSPN alumni practising in different areas of science policy. Small groups will have a chance to delve deeper into the themes presented in the workshops and will have the opportunity to ask questions as they seek to find their place at the science-policy interface. Similarly to our workshop series, prizes will be offered to winners of a networking bingo.
Read below for more details on each of the individual events!
Research At Work 1 – Summary and Expert Bios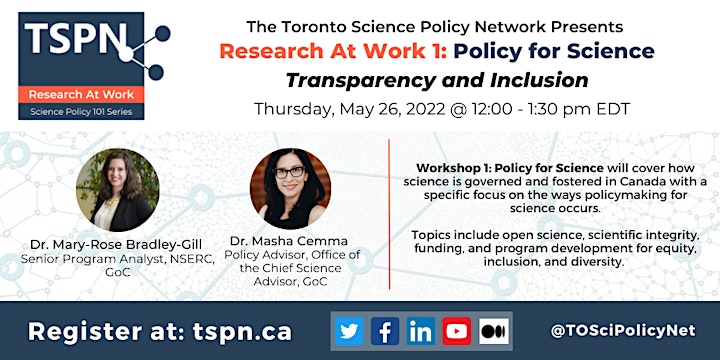 The first workshop, Policy for Science, will cover how science is governed and fostered in Canada, and specifically discuss the ways in which policymaking for science functions. Topics that may be covered include open science, scientific integrity, funding, and program development for equity, inclusion, and diversity. We will host two expert speakers, Dr. Mary-Rose Bradley-Gill and Dr. Masha Cemma, who will share their experience in working at NSERC and the Office of the Chief Science Advisor of Canada respectively. Finally, using case studies, attendees will have a chance to engage in the process of developing policy for science.
Dr. Mary-Rose Bradley-Gill
Mary-Rose currently works as a Senior Program Analyst on the College and Community Innovation program team. She started at NSERC in 2020 first as a Mitacs Canadian Science Policy Fellow analyzing self-identification data from NSERC programs. Previously, she received her PhD in Biology from McGill University where she studied genes mutated in cancer and their role in the basic processes that control cell division and development. During her graduate studies, Mary-Rose was co-President and served on the Board of Directors of Science & Policy Exchange (SPE). She is passionate about relating research to the broader society and promoting evidence-based policy making, and has organized events such as policy discussions on gender barriers in science, a Wikipedia editing night to create and enhance pages of women scientists and ran a STEMMinist book club discussion focused on books related to underrepresented groups in science.
Dr. Masha Cemma
Dr. Masha Cemma is a policy advisor to the Chief Science Advisor of Canada, Dr. Mona Nemer. In that capacity, she works on Open Science and science advice in emergency preparedness. Prior to her current role, Masha completed a Mitacs Canadian Science Policy Fellowship at the Canadian Food Inspection Agency (CFIA). At the CFIA, she helped build a high containment laboratory network that fostered international cooperation, knowledge translation, and exchange to strengthen preparedness to high-consequence pathogens.
Masha earned her PhD in 2016 from the Department of Molecular Genetics at the University of Toronto. During her PhD, she examined the role of autophagy machinery in host defence against bacterial pathogens. Masha received her first exposure to policy in 2014 through a fellowship at the World Health Organisation, where she worked on antimicrobial resistance.
Research At Work 2 – Summary and Expert Bios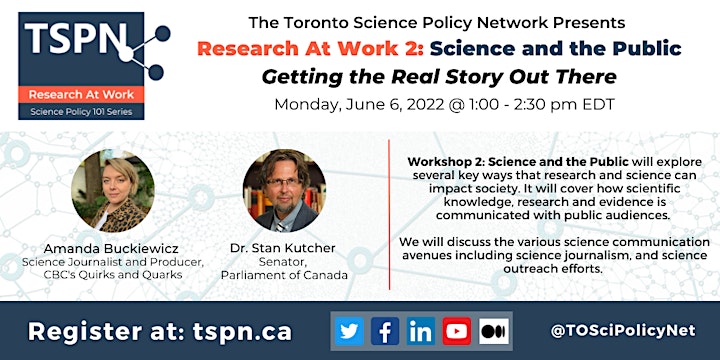 The second workshop, Science and the Public, will cover how scientific knowledge, research and evidence is communicated with public audiences. We will discuss the various science communication avenues including science journalism, science outreach efforts, and social media. Workshop attendees will learn from the experience of two expert speakers who bring varying perspectives on work in the science communication space. The speakers for this workshop are Senator Dr. Stan Kutcher, Canadian Senator, psychiatrist and Professor, and Amanda Buckiewicz, science journalist at CBC Radio's Quirks & Quarks. Finally, using case studies, attendees will be able to apply what they have learned and think through approaches to translating scientific evidence in meaningful ways to the public.
Senator Stan Kutcher
Senator Stan Kutcher is an internationally renowned psychiatrist in adolescent mental health. He is a leader in mental health research, education, advocacy, policy and services innovation. He previously worked at the University of Toronto and Dalhousie University where he was the Department Head of Psychiatry, the Associate Dean of International Health and the Sun Life Financial Chair in Adolescent Mental Health.
Senator Kutcher's work has led the development of a national child and youth mental health framework for Canada (Evergreen). He has conducted award winning research into the neurobiology and treatments of mental disorders in youth and has developed and deployed innovative systems of mental health care. Recently his focus was on primary care mental health interventions and mental health literacy development. Ensuring best available evidence is used to advance mental health and enable rapid access to effective mental health care is essential to Senator Kutcher's initiatives.
Amanda Buckiewicz
Amanda Buckiewicz is an award-winning science journalist who is currently a producer at CBC Radio's iconic science show, Quirks & Quarks. After almost going to University to study medicine, she made a last-minute switch to go into Ryerson University's journalism program instead. She started her career at Discovery Channel's Daily Planet, where she travelled the world producing stories on a variety of topics, like the world's hottest wind tunnel, Hurricane Katrina's recovery projects, and a research program studying coma patients for locked-in syndrome. Since leaving Discovery she has produced several documentary series, including Great Lakes Wild for BBC Earth, which looked at how the Great Lakes were being harmed by humans and the efforts to undo the damage. Now at Quirks & Quarks she focuses her work on stories that highlight just how awesome our planet can be, and shining the light on difficult topics like the effects of racism and colonialism on the world of science.
Research At Work 3 – Summary and Expert Bios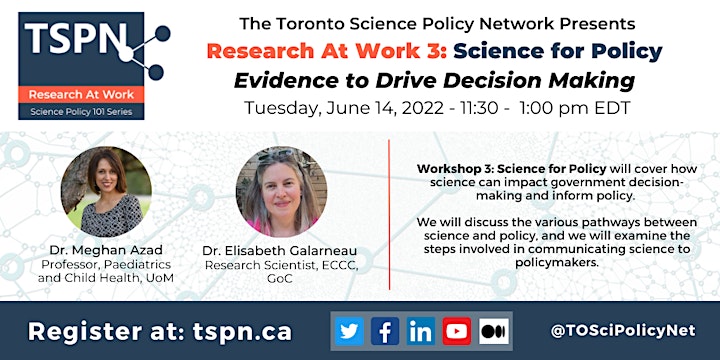 The final workshop, Science for Policy, will cover how science can impact government decision-making and inform policy. We will discuss the various pathways between science and policy, and we will examine the steps involved in communicating science to policymakers. Workshop attendees will learn from two expert speakers (one academic and one scientist working in government): Dr. Meghan Azad, Research Scientist and Associate Professor of Paediatrics and Child Health, and Dr. Jasmine Hamilton, Acting Manager at Innovation, Science and Economic Development Canada. These experts will share their experiences and their unique lens on the process of bridging science with policy. Finally, using case studies, attendees will have a chance to engage in the process of translating science to policy.
Dr. Meghan Azad
Dr. Azad is an Associate Professor of Paediatrics and Child Health at the University of Manitoba, where she holds a Tier 2 Canada Research Chair in Developmental Origins of Chronic Disease. Her research program is focused on the role of infant nutrition and the microbiome in child growth, development and resilience. Dr. Azad co-Directs the new Manitoba Interdisciplinary Lactation Centre (MILC) and leads the new International Milk Composition (IMiC) Consortium. She serves as Deputy Director of the CHILD Cohort Study, a national pregnancy cohort following 3500 children to understand how early life experiences shape lifelong health.
Dr. Azad serves on the International Society for Research in Human Milk and Lactation Executive Council and the joint US/Canada Human Milk Composition Initiative. She is a Fellow of the CIFAR Humans and the Microbiome Program and an elected member of the Royal Society of Canada College of New Scholars. Dr. Azad received the International Society for Research in Human Milk and Lactation Erlich-Koldovsky Early Career Investigator Award (2018) and the International Human Milk Genomics Mid-Career Investigator Award (2020). She was named among the WXN Canada Top 100 Most Powerful Women (2020) and Canada's Top 40 Under 40 (2021).
Dr. Elisabeth Galarneau
Dr. Elisabeth Galarneau is an internationally-recognized expert on atmospheric polycyclic aromatic compounds (PACs) and other toxic pollutants. She started her career at Environment and Climate Change Canada 25 years ago as a Science Advisor tasked with linking science and policy for national and international programs. She subsequently transitioned to her role as Research Scientist after acting as Principal Investigator for the Integrated Atmospheric Deposition Network (IADN). Her research has received national media attention, and includes ambient measurements, laboratory studies, and computer modelling. She has initiated and led national science programs such as the State of Knowledge Report on PACs in the Canadian Environment, and she is Principal Investigator for the 2024 Study of Winter Air Pollution in Toronto (SWAPIT). Dr. Galarneau is dedicated to advancing science for the public good and to improving communication to non-scientific audiences.
Research At Work 4 – Summary
Research At Work 4 presents an opportunity to connect with individual mentors and dive deeper into the topics we discussed in the previous three sessions. This networking event will feature many of the workshop experts as well as some additional special guests and TSPN alumni. We will announce a full list of network event participants and their bios closer to the event. We will also provide an opportunity at this time for you to indicate your preferred Research At Work mentors for the event.
About TSPN
The Toronto Science Policy Network is a student-run science policy group. We seek to provide a platform to learn more about and engage in science policy. Since July 2018, we have organized a variety of events (including workshops, public panels, and talks) and advocacy efforts, engaging hundreds of individuals to date. While we are a recognized campus group at the University of Toronto, we welcome members and participants from outside the university, and indeed outside the city, to join. Everyone is welcome, regardless of whether you study or actively work in the sciences, social sciences, or humanities.
Code of Conduct
TSPN is dedicated to providing a harassment-free event experience for everyone, regardless of gender, gender identity and expression, age, sexual orientation, disability, physical appearance, body size, race, ethnicity, religion (or lack thereof), or technology choices. We do not tolerate harassment of TSPN volunteers or event participants in any form. Sexual language and imagery are not appropriate for any TSPN activities, including meetings, talks, workshops, parties, events, Twitter, and other online media. Individuals violating these rules may be sanctioned or asked to leave the event at the discretion of the event organizers.