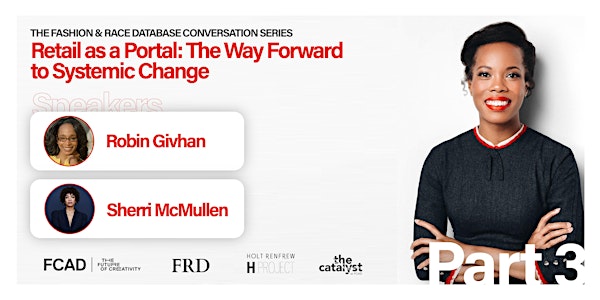 Retail as a Portal: The Way Forward to Systemic Change
The Fashion and Race Database Conversation Series | Part 3
About this event
The Fashion and Race Database Conversation Series is launching with a three-part panel series entitled, 'Retail as a Portal,' that explores how retail can empower us to produce and consume with positive, social impact and ignite systemic change. This series is hosted by professor and Founder of The Fashion and Race Database, Kimberly Jenkins, and she will be joined by figures in the fashion constellation who are leading through visionary thinking and doing. The final installment of this series, 'The Way Forward to Systemic Change,' will feature both an esteemed fashion critic and an acclaimed luxury retail entrepreneur who are broadening the horizons of fashion leadership.
Kimberly Jenkins is Assistant Professor of Fashion Studies at Ryerson University, lecturing previously at Parsons School of Design and Pratt Institute. Kim became best known for designing a course and exhibition called Fashion and Race, and has shared her insights globally in industry forums and institutions. Her expertise on fashion history and infusing 'race' into fashion theory education has led to consulting work for Gucci, Camera Nazionale della Moda Italiana, the Centraal Museum along with other corporate brands and organizations. Kim is the founder of The Fashion and Race Database (fashionandrace.org), an online platform filled with open-source tools that expand the narrative of fashion history and challenge mis-representation within the fashion system.
Robin Givhan is Washington Post Senior Critic-at-Large writing about politics, race and the arts. Previously, she covered the fashion industry as a business, as a cultural institution and as pure pleasure. She is the 2006 Pulitzer Prize winner for criticism and author of The Battle of Versailles: The Night American Fashion Stumbled into the Spotlight and Made History. In addition to The Post, Givhan has worked at Newsweek, Daily Beast, Vogue magazine and the Detroit Free Press. During her most recent tenure at The Post, in addition to fashion, Givhan covered Michelle Obama during the first year of the administration.
Sherri McMullen is the Founder of her eponymous luxury concept retail stores, McMullen, located in Oakland and Palo Alto, California. With more than 20 years of fashion industry experience, Sherri is dedicated to advocating for industry change while committing resources and platforms for Black designers and creatives. Using her platform, she brings awareness to emerging designers, diversity on a corporate level, and industry innovation. She was awarded for her exemplary achievements in fashion entrepreneurship, business management and community service to organizations focused on women, children and the arts.