Celebrate the stories that connect us at The Word On The Street Toronto's 2021 virtual festival of storytelling, ideas and imagination.
About this event
The Word On The Street presents Return of the Trickster: A Conversation with Eden Robinson
A feature conversation with bestselling author Eden Robinson about Return of the Trickster, the final book of her acclaimed Trickster Trilogy. Hosted by award-winning author Lisa Bird-Wilson.
All Jared Martin had ever wanted was to be normal, which was already hard enough when he had to cope with Maggie, his hard-partying, gun-toting, literal witch of a mother, Indigenous teen life and his own addictions. When he wakes up naked, dangerously dehydrated and confused in the basement of his mom's old house in Kitimat, some of the people he loves–the ones who don't see the magic he attracts–just think he fell off the wagon after a tough year of sobriety. The truth for Jared is so much worse.
Even though his mother resents like hell that Jared has taken after his dad, she is also determined that no one is going to hurt her son. For Maggie it's simple–Kill or be killed, bucko. Soon Jared is at the centre of an all-out war–a horrifying place to be for the universe's sweetest Trickster, whose first instinct is not mischief and mind games but to make the world a kinder, safer, place.
This panel will stream live Saturday, September 25 at 7pm ET.
Panelists
Eden Robinson has matriarchal tendencies. Doesn't have a pressure cooker, but knows how to jar salmon. Her smoked salmon will not likely kill you. Hobbies: Shopping for the Apocalypse, using vocabulary as a weapon, nominating cousins to council while they're out of town, chair yoga, looking up possible diseases or syndromes on the interwebs, perfecting gluten-free bannock and playing Mah-jong. Be warned, she writes novels and tends to be cranky when interrupted.
Lisa Bird-Wilson is a Saskatchewan Métis and nêhiyaw writer. Her fiction book, Just Pretending (Coteau Books 2013), won four Saskatchewan Book Awards, including 2014 Book of the Year, was shortlisted for the Danuta Gleed Award, and was the 2019 One Book, One Province selection. Her debut poetry collection, The Red Files (Nightwood Editions 2016), is inspired by family and archival sources, and reflects on the legacy of the residential school system and the fragmentation of families and histories. She is the chair of the Saskatchewan Ânskohk Writers Circle Inc. (SAWCI)—the group that hosts the Ânskohk Indigenous Literature Festival and the CEO of the Gabriel Dumont Institute of Native Studies and Applied Research Inc in Saskatoon.
Shop local! Purchase books by WOTS2021 featured authors through local independent bookstores on our official bookseller page.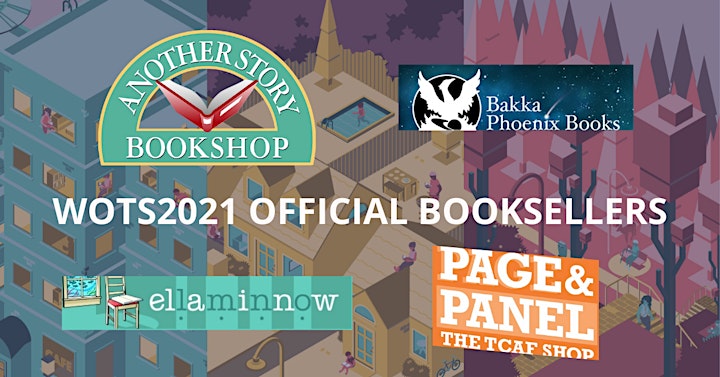 About the Festival
For 32 years, The Word On The Street has been a gathering place for authors, publishers, booksellers, and readers of all ages to celebrate the stories that connect us.
We're staying virtual for WOTS2021, so you can tune in from wherever you are to enjoy incredible programming with 100+ authors presented over 10 days from September 16th to 26th, featuring bestselling Canadian and Indigenous authors like Eden Robinson, Andre Alexis, Zoe Whittall, and Richard Van Camp.
Get insight into the year's top issues through a literary lens, with readings and panels on topics like climate change, decolonization, and how we care for one another. Poetry, memoir, mystery & more, WOTS2021 has the books you've been looking for.
Visit the 2021 Festival Homepage!
You can also subscribe to our YouTube channel for a preview of what to expect during the WOTS2021 festival, and watch (or re-watch) our year-round City Imagines and Book Talk series.
Become a Patron of The Word On The Street
We are very grateful to our vibrant and generous community for your continued support throughout this challenging period for live events. If you'd like to contribute financially, you can add a donation to your registration or visit our CanadaHelps fundraising page to learn more about how you can help to sustain Toronto's favourite book festival.
We also appreciate your support in the form of kind messages for our small-but-mighty team and helping us spread the word on social media!
On COVID-19 & In-Person Events
For the second time ever, WOTS2021 will be held virtually with programming hosted on our website and streamed live on YouTube. But that's not all! We're also collaborating with local authors and bookstore partners to offer a limited number of socially-distanced book signings. Check out the Bookstore Signing Schedule for more details on who might be coming to your neighbourhood.
If you're most familiar with our offline offerings: Hi! We miss you, and hope you are well!
Our team is doing the best we can to ensure the health and safety of our community, especially for vulnerable and younger readers who don't yet have access to a vaccine.
Staying virtual has given our team the opportunity to re-think how we can best honour our mandate as champions of literacy, and we can't wait to share our exciting news about the future of WOTS with you this September!

The Word On The Street is an annual celebration of storytelling, ideas and imagination, hosting Canada's largest FREE book and magazine festival annually since 1990 and promoting great books by Canadian and Indigenous authors year-round.
Organizer of Return of the Trickster: A Conversation with Eden Robinson