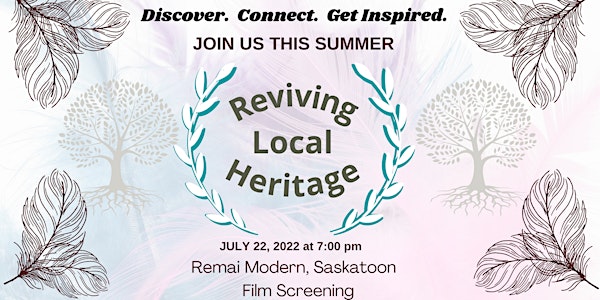 Reviving Local Heritage : Legacy of Saskatoon's Secret Forest
With this International Film, Celebrate Saskatoon's hidden forest the Richard St. Barbe Baker Afforestation Area on its 50th anniversary
When and where
Location
Remai Modern 102 Spadina Crescent East Saskatoon, SK S7K 0L3 Canada
Refund Policy
Contact the organizer to request a refund.
Eventbrite's fee is nonrefundable.
About this event
Discover. Connect. Get Inspired.
The Friends of the Saskatoon Afforestation Areas guest speaker will present an introductory talk, "Global Crusader and Changemaker" that brings us closer to our connection with Richard St. Barbe Baker and his roots in Saskatoon. What role do the stories told about the Saskatoon afforestation areas- these laboratories in ecological succession- have in shaping urban long range plans, and as nature based solutions to climate change?
Conservationist Richard St. Barbe Baker, the extraordinary visionary behind the International Tree Foundation, leads campaigns around the world including the reclamation projects for the world's deserts and protection of virgin forests from destruction. Award Winning Christopher Chapman archival footage brings this historic figure to life. This Riley Deacon - directed documentary features Baker's tree sense urging and encouraging every citizen to plant, protect and love their native trees. Baker's message is inspirational. Hear from people locally and from around the world who knew Baker and attest to Baker's success and motivational formula.
Presented in partnership with The Friends of the Saskatoon Afforestation Areas as part of the International Tree Foundation's centenary and the 50th anniversary of the Richard St. Barbe Baker Afforestation Area.
July 22 at the Remai Modern 7:00 pm A heritage film Legacy of Saskatoon's Secret Forest about the Richard St Barbe Baker Afforestation Area and its namesake on the centenary of the International Tree Foundation that he founded. Join us at the Public Screening.
Celebrate Saskatoon's hidden forest, the Richard St. Barbe Baker Afforestation Area on its 50th anniversary. Learn about the fascinating life story of the pioneering Global Conservationist it is named after as we commemorate the 100th anniversary of the International Tree Foundation that he founded.
This event is part of Historic Places Days "Every Place A Story" Friday July 22 7:00 pm Remai Modern Saskatoon Every historic site has not just one, but many, stories. Telling the untold and forgotten stories of the namesake of Richard St. Barbe Baker Afforestation Area historic site.
And there's a contest with awesome prizes too! #HistoricPlacesDays. Tag your selfie at the afforestation areas for a chance to win $1,000 Post before 07-31
Legacy of Saskatoon's Secret Forest Global Crusader and Changemaker
At the Remai Modern Friday July 22, 2022 learn about our rich and diverse history sponsored by Friends of the Saskatoon Afforestation Areas inc. Mark your calendars!
Celebrating 100 years
International Tree Foundation (ITF)
The ITF which he founded in 1922 as the Men of the Trees is still active in 14 countries. Countless people motivated by him are environmental champions today.
Celebrating 50 years
Richard St. Barbe Baker Afforestation Area
Discover 7 hectares [17 acres] of West Swale wetlands nestled within 132 hectares [326 acres] of woodlands planted 50 years ago now a diverse, semi-wild, area to roam and enjoy.
Featuring
Greetings
His Worship, Charlie Clark, Mayor of the City of Saskatoon, SK, CA
David Kirton, City Councillor, Saskatoon
Hilary Gough, City Councillor, Saskatoon,
Andrea Lafond, CEO, Meewasin
Farah Haji, Saskatoon Baha'i Community: Appreciation and Prayer
Traditional Land Treaty Acknowledgements
Kevin Wesaquate Poet, painter, welder, spoken word artist and founder of the Indigenous Poet's Society. Originally from Piapot First Nation
Special Thanks To:
-Forest History Society, Durham, NC
-West End Local History Society, UK
-University of Saskatchewan Archives and Special Collections
Featuring
Robert White, Saskatoon
BSA, MES (Env. St.) Recipient of the first Men of the Trees Prize at the University of Saskatchewan
Paul Hanley, Hawaii
Author of the biography Man of the Trees: Richard St. Barbe Baker; The First Global Conservationist and four other books, and more than 1500 articles on the environment, agriculture, and the future of civilization.
Alan Watson-Featherstone, Scotland
BA Honours Inspirational speaker and the founder of the conservation charity Trees for Life, recipient Schumacher Award, Glenfiddich Spirit of Scotland Award and RSPB Outstanding Contribution Award.
Leona Graham, Scotland
BA/MA Findhorn Community. World Wilderness congresses, and Director CCF/Cheetah Conservation International Conservation Program Director associated with WILD
Vance Martin, Colorado, USA
BA English/forestry wildlife management. President WILD Foundation, co-founder and President of Wilderness Foundation Global (based in South Africa), & Founder Co-chair of the Wilderness Specialist Group (part of the World Commission on Protected Areas, within the International Union for the Conservation of Nature).
Scott Poynton, Switzerland
MSc Forestry. Founded The Forest Trust, through which major global wood supply companies made historic commitments to zero deforestation. Founder and leader of The Pond Foundation, offering a Carbon Zero program aimed at changing how the world acts on climate change.
Dr. Alan Grainger, England
BSc, DPhil. Researcher and Senior Lecturer in Global Environmental Change and Policy, University of Leeds, U.K
Hugh Locke, New York
B.EnvST. President of the Smallholder Farmers Alliance in Haiti and President of the U.S.-based Impact Farming Foundation
David VanVliet, Manitoba, CA
BA, MEDes, PhD. Associate Professor, Department of City Planning, University of Manitoba, CA
Dr. Camilla Allen, England
PhD University Sheffield, England. Thesis written on Richard St. Barbe Baker and his lifetime achievements globally.
Tony Rinaudo, Australia
BSc AM. Agronomist, Senior Climate Advisor World Vision, Forest Maker, Famine Fighter. Co-developer Farmer Managed Natural Regeneration (or FMNR)
Richard St. Barbe Baker fell in love with trees as a child. He had a bonding experience which filled him with love. He shared this feeling with everyone so that they could feel a oneness and a love for trees like he did. His stories about tree planting were published in books, and on radio shows. Other people heard his stories and decided then and there, that they, too would find this love for trees. Richard St. Barbe Baker went on to create a large global group dedicated to the love of trees, and tree planting. So many people were happy to help him, they loved to be friends with Richard St. Barbe Baker and his ideas. These people who joined with Richard to plant trees and protect trees had a special name – Watu Wa Miti -because the first place Richard St. Barbe Baker started was in Africa. Watu Wa Miti are Forest Scouts or Forest Guardians because of the promise they took to help out. Richard St. Barbe Baker saved their lives.
These trees planted created forests habitats and homes for wildlife. Another global wildlife society Canadian Wildlife Federation- saw the importance of Richard St. Barbe Baker's work, and gave him an award. The Queen of England and the University of Saskatchewan also gave Richard St. Barbe Baker awards for Richard's worldwide travels to save the planet to protect and plant trees. So it was that Richard St. Barbe Baker received the order of the British Empire, and 50 years ago was bestowed the honourary Doctorate of Laws by John G. Diefenbaker. At this time Diefenbaker was chancellor of the university and went on to become Prime Minister of Canada.
Local Learning
A companion curriculum describes his holistic world view, and his daring life of action on behalf of the earth.
Guided Tours
Free guided tours of the afforestation areas area available upon request, as scheduling permits.
The Mission
of the Friends of the Saskatoon Afforestation Areas
We work to protect Saskatoon's two heritage afforestation areas. The largest afforestation area (132 ha) was planted in 1972 and named after Baker by Saskatoon City Council in 1979. The nearby George Genereux Afforestation Area is 60 hectares.
The rich geological, historical, natural, and cultural heritage of the areas honours our past. As places for hands-on learning about conserving our environmental heritage they ensure our future.
Pamphlet for this event for download
Admission to the film free is with a Remai Modern general admission or museum membership.