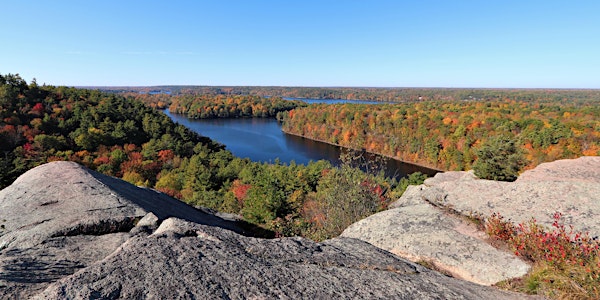 Rock Dunder Trail Passes (1 per car/group)
Purchase a day pass to visit Rock Dunder. Choose your planned arrival time. Only purchase ONE ticket for your carload/group .
When and where
Location
Rock Dunder Trails Stanley Lash Lane Rideau Lakes, ON K0E 1N0 Canada
About this event
The hiking trails of the Rock Dunder Property, owned by the Rideau Waterway Land Trust, are open to Land Trust supporters.  You may purchase a Supporter Day Pass for $10 PER VEHICLE, or group of up to 7 people if walking in.    A Season Pass ($50 ) is also available (select any date for Season Pass option).  The area has 7.2 km of marked hiking trails, including the Summit Trail which provides a spectacular view of Morton Bay and the surrounding lakes and forests. 
____________________________________________________________________________________
Public Service Announcement:
RWLT Implements New Entry Limits at Rock Dunder Effective Sept 18, 2020
Starting Sept 18, 2020, entry to Rock Dunder hiking trails will be limited to 30 groups per hour.
Due to the increased demand for outdoor recreational activities during the Covid-19 pandemic, the hiking trails at Rock Dunder have experienced record-setting levels of usage since our opening in May. The gate staff have been closely monitoring the situation and surveying exiting hikers during peak times to determine if they felt that the 2m social distancing requirements were able to be upheld. On September 5, over 220 groups visited Rock Dunder over the course of the day and the safe operating capacity was exceeded for the first time. The RWLT board decided that enacting an hourly limit on the number of groups entering the property would allow everyone to better enjoy their time in nature while still following governmental and health guidelines on social distancing.
To facilitate this change to an hourly limit, tickets purchased through Eventbrite will now be for a specific entry time between 7am and 6pm. Visitors must arrive during the hour in which their ticket is valid, but may spend as much time as needed hiking the trails. We also strongly encourage visitors to purchase a pass in advance through Eventbrite to ensure that they will be allowed entry. If the limit is reached, groups without a pass will be asked to return at a later time.
A reminder that all previously implemented COVID protocols are still in place:
-Drivers are asked to wear masks when purchasing passes at the trail head.
-Please use contactless forms of payment – credit or debit
-All trails are one way to facilitate social distancing. Please follow the posted signage.
-Washrooms are closed for the 2020 season. Used toilet paper and other trash must be bagged and taken offsite by the hiker.
At RWLT we understand the need for outdoor recreation opportunities during these stressful times. The new procedures are designed to protect everyone as well as the sensitive environmental features on the properties while still allowing hikers an opportunity to experience nature. The Board of Directors wishes everyone a safe, healthy fall.
Contact for more information: Peter Hannah, RWLT Chair, phone 613-305-3507
____________________________________________________________________________________
The Rock Dunder Trails open May 15 to November 15, sunrise to sunset. Use of the property outside of these permitted times is trespassing!  A valid Pass is required for all access onto the property; print your ticket or write your Eventbrite order number out and display on your dashboard after purchasing.
*Note that purchasing a pass does not guarantee parking on-site.