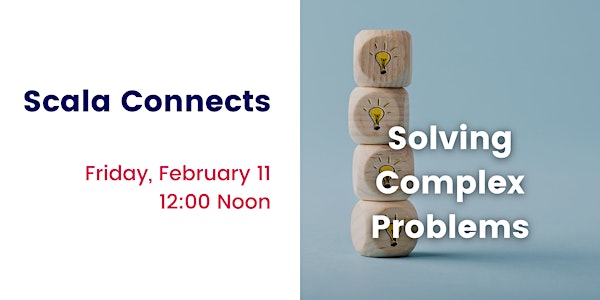 Scala Connects: Solving Complex Problems with Creative Thinking
Listen, Sense, Grow(TM): Solving Complex Problems with Creative Thinking
About this event
In today's world, many of the challenges we face are no longer simple or even complicated - they're complex. There are multiple factors to consider, and often there's no clear answer. Examples include: What do I do next in my career? How do I manage stress, or burnout?
So how do we solve the complex challenges we face? By learning to recognize complexity and bring creative thinking to these challenges - reducing frustration and "stuckness" in the process. In this Scala Connects webinar, we will develop the skills to recognize complexity in our current challenges and practice thinking creatively about them through reflection and activities. Join us for an interactive conversation and walk away with a new approach to solving a complex challenge in the new year!
Maggie DiStasi is a Professional Certified Coach (PCC), specializing in mindfulness-based and trauma-informed coaching for aspiring leaders. Through coaching and workshops, she supports people to gain the confidence to lead through change and complexity.
---------
Our Scala Connects series is designed as a forum for women to connect with like-minded professionals and get a break from their weekly routine. These free, 1-hour sessions over lunchtime, focus on specific topics and provide networking opportunities to help you learn and grow your career.
Join us on Friday, reflect over the weekend, and be ready to take action on Monday.
So grab your lunch, close the door, and take time for yourself.