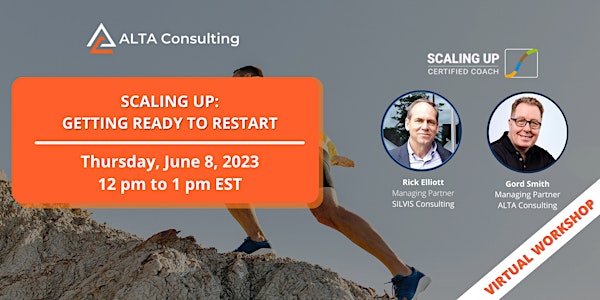 Scaling Up: Getting Ready to Restart - June
Learn a time-tested methodology covering 4 essential pillars of Scaling Up and a suite of growth tools to make your team aligned & engaged.
Date and time
Thursday, June 8 · 9 - 10am PDT
About this event
Are you a leader of a growing firm and see the opportunities you want to capture?
But you feel that you are alone carrying the entire load up the hill?
In order to help you scale up the business and enjoy the climb, we will introduce a fundamental Scaling Up framework and useful tools
To lead PEOPLE
To set STRATEGY
To drive EXECUTION and
To manage CASH
Who should attend?
Owners/Presidents/CEOs of companies that have a strong aspiration to grow exponentially.
Leadership Teams that are new to Scaling Up who want to get a significant jump-start in implementing the tools and techniques.
What will you learn?
This workshop is the perfect time to learn the proven framework and tools to get your team aligned, focused, and engaged around the challenges and opportunities!
You will take away actionable insights from this workshop with our certified Scaling Up Coaches who will introduce the concept of Rockefeller Habits 2.0.
During the Workshop, our coaches will talk about the importance of high-performing teams (and how to tell if you have one), alignment, delegation, goal setting, communication, and all of the other obstacles, leaders face as they work to scale. Additionally, you will participate in group discussions and coaching demonstrations – ALL VIRTUALLY!
In this workshop, you will learn a time-tested and results-driven methodology that covers such 4 Key Areas of Scaling Up as:
How to attract and keep the right PEOPLE
How to сreate a differentiated STRATEGY
How to drive flawless EXECUTION
How to have plenty of CASH
You will walk away with:
Copy of the book, Scaling Up by Verne Harnish
Scaling Up Tools for People, Cash and Strategy
Free Scaling Up Assessment
Learn what it takes to go from Lean Start-Up to an Agile Scale Up.
About Our Scaling Up Coaches:
Gord Smith, Managing Partner at ALTA Consulting and certified Gazelles Scaling Up coach.
Gord brings his broad range of global leadership experience to Scaling Up. He has recognized expertise in Sales Performance, Marketing, Leadership Development, Training, Product Development and Management Consulting. He has collaborated on many start-ups as well as run several of his own businesses. He is passionate about growing companies and sees Scaling Up as a natural fit.
As Canadian Practice Director for RAIN Group, Gord has worked with dozens of North American organizations to train and empower their sales teams to unleash their sales potential and drive revenue. In addition, he runs his own consulting firm, ALTA Consulting, coaching business leaders to drive profitable growth.
Rick Elliott, Managing Partner at SILVIS Consulting and certified Gazelles Scaling Up coach.
Rick has spent the last 20 years in global GM roles in the technology sector, has extensive sales/marketing experience, along with a financial background, with companies SAP, Oracle, Amdocs and Ernst & Young.
Rick is recognized for his leadership and development work with scale-up companies. Most recently, based out of New York, he was running the North American arm of Israeli-based scale-up CTERA Networks, a cloud-based technology vendor, where he has overseen growth from 50 to 150 employees.
Prior to this, Rick was 2nd in charge at scale-up ResponseTek Networks, a company delivering solutions to global telecommunications and financial entities, where he oversaw growth from 30 to 180 employees, with an eventual acquisition by ESW Capital.