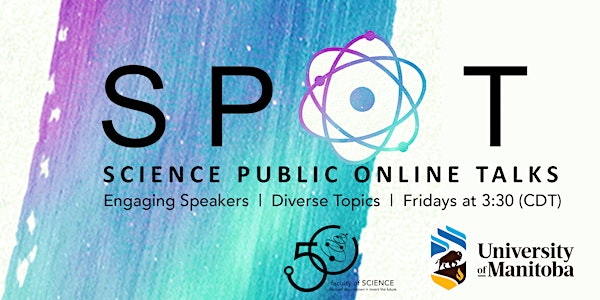 Science Public Online Talks
Join us online for weekly talks from UM science faculty and alumni experts. Discover our diverse ecosystem at the UM Faculty of Science.
About this event
This spring we are launching SPOT: Science Public Online Talks, free for all UM alumni, students, faculty, and friends.
Join us online for weekly talks from UM faculty and alumni experts. Discover our diverse ecosystem at the UM Faculty of Science.
We'll explore both research and career topics, from Nobel Prize winning discoveries, the origins of our universe, examining life on the smallest scales, new technologies, augmented humans, indigenous science, antibiotic resistance, or why emotional intelligence is an essential skill that will set you apart.
Our alumni speakers include Dr. James Peebles, winner of the 2019 Nobel Prize in Physics.
Lectures will be presented live from 3:30pm CDT each Friday from May 8 – August 28. The talks are expected to take approximately 30-40 minutes (with half of the time for questions).
Recordings will be available after each session on the UM Faculty of Science Youtube channel.
2020 Schedule
May 8 - How to employ Artificial Intelligence to fight cancer - Dr. Jörg Stetefeld, (Tier 1) Canada Research Chair in Structural, Biology and Biophysics/Professor
May 15 - Emotional Intelligence its Essential - David Owasi, [BSc/16], Career Consultant (David Aplin)
May 22 - "The Physics of Detectors: Artificial Eyes that help us "see" - Dr. Michael Gericke, Professor, Subatomic Physics 
May 29 - "Psychological Pitfalls That Made the COVID-19 Pandemic Go From Bad to Worse" - Dr. Hersh Shefrin[BSc(Hons)/70] 2019 University of Manitoba Distinguished Alumni Lifetime Achievement Award, Mario L. Belotti Professor of Finance at Santa Clara University. He pioneered the behavioral approach to economics and finance.
June 5 - The Strength of a Secret - Dr. Susan Cooper, Associate Professor, Mathematics
June 12 - Lessons on the Nature of Physical Science from the Study of the Expanding  Universe - Nobel Laureate, Dr. James (Jim) Peebles, [BSc(Hons)/58, DSc/89]
June 19 - How to see in 100 dimensions: Transforming your data to better understand it - Max Turgeon, Assistant Professor, Statistics
June 26 - Colliding black holes and neutron stars: latest results from LIGO and Virgo - Dr. Michael Landry [PhD/00], Head of LIGO Hanford Observatory/Caltech
July 10 -"How Science can learn from Anishinaabe mowin!" - Dr. Myrle Ballard, Assistant Professor, Indigenous Scholar,  Chemistry
July 17 - "Building on Strengths: Open Source in Safety Critical Applications" - Kate Stewart, [BSc./85] Sr. Director of Strategic Programs, The Linux Foundation
July 24 - End-User Interfaces for In-Situ Sensemaking - Dr. Pourang Irani, (Tier 2), Canada Research Chair in Ubiquitous Analytics, Professor, Computer Science
July 31 - Change Happens - Theo Srivastava,[BSc. (Microbiology)/05], Account Manager at The Binding Site
Aug. 7 - Why talk about antimicrobial resistance during a viral pandemic? - Dr. Ayush Kumar, Professor, Department of Microbiology
Aug. 21 - Lampreys: The Good, the Bad, and the Ugly -Dr. Margaret Docker, Professor, Department of Biological Sciences
Aug. 28 - The Human Holobiont: The Biological Communities That Make Us Who We Are - Nirvani Umadat, DMD, B.Sc(Dent), B.Sc(Hon), GPR, Dental Surgeon, Biotechnologist, Healthcare Entrepreneur
Celebrating 50 years, University of Manitoba, Faculty of Science,1970 - 2020.
World-changing science happens here. `
Questions
If you have any questions, please email: Samar.Safi-Harb@umanitoba.ca.