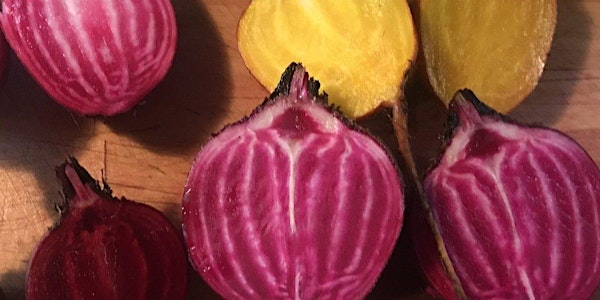 Seed Webinar Series: Beets | Semences & variétés adaptées : Les betteraves
Beet breeding for colour and flavour
About this event
Beets: Breeding for Flavour and Colour
July 29, 2021 10am - 11:30 PST
Speakers: Solveig Hanson, Mel Sylvestre
Description: Solveig literally wrote the book (well, the dissertation) on table beet flavour. Rich, sweet, and earthy, beet flavour is in part determined by its levels of geosmin, which our guest has researched in detail. Join us to learn more about this work, the impact of geosmin and other flavour compounds in beet cultivar popularity, and learn how to select beets for flavour. This webinar is for farmers who love growing beets, those interested in on-farm beet breeding, and participants in the 2021 Citizen Seed Trials.
-----------------------------------------------------------------------------------------------
Betteraves : une sélection axée sur la saveur et la couleur
29 juillet 2021, 13h-14h30 heure de l'est
Conférenciers/conférencières : Solveig Hansen, Mel Sylvestre
Description : Solveig a littéralement écrit le livre (ou plutôt une dissertation) sur la saveur des betteraves de table. Riche, sucrée et légèrement terreuse, la saveur de la betterave est en partie déterminée par le niveau de géosmine, que Solveig a étudié en détail. Soyez des nôtres pour en apprendre plus sur ces travaux, l'importance de la géosmine et d'autres composantes de goût en ce qui a trait à la popularité des cultivars, et aussi commencer effectuer une sélection axée sur la saveur. Ce webinaire s'adresse aux agricultrices et agriculteurs qui aiment cultiver des betteraves, à ceux et celles qui s'intéressent à la sélection de betteraves à la ferme, et aux personnes qui prennent part aux 2021 Citizen Seed Trials.
This event is hosted in partnership with FarmFolk CityFolk Society--with support from the Canada Organic Vegetable Improvement project (CANOVI) -- seedsecuirty.ca/canovi.
Cet événement est organisé en partenariat avec FarmFolk CityFolk Society-- avec le soutien du projet d'amélioration des légumes biologiques du Canada (ALEBIO) -- semencessecures.org
Organizer of Seed Webinar Series: Beets | Semences & variétés adaptées : Les betteraves
The Bauta Family Initiative on Canadian Seed Security, a program of SeedChange, is building a movement for resilient seed systems in Canada. Our events are designed and hosted in collaboration with partner organizations across Canada, including FarmFolk CityFolk (BC), Organic Alberta (for the Prairie region), the Ecological Farmers Association of Ontario (EFAO), and the Atlantic Canadian Organic Regional Network (ACORN).