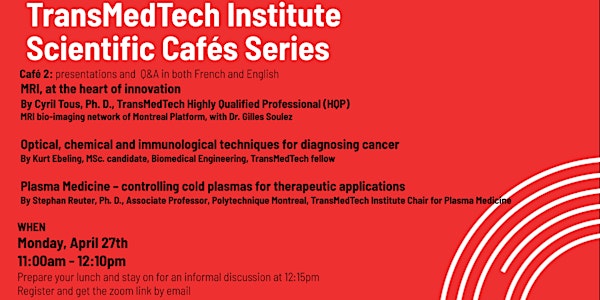 Série de cafés scientifiques TransMedTech Café #2
MRI Bio-Imaging, Cancer Diagnosis and Plasma Medicine
About this event
11h00 Introduction
11:05 Cyril Tous: MRI, at the heart of innovation
The increasing elderly population and number of patients with cancer requires hospitals to keep up with the growing demand for services.
The number of MRI scans being required has almost doubled between 2007 and 2017 in Canada (~2M scans/year) (1). Technical innovations have placed the MRI as the best imaging technique for the diagnosis of soft tissues, providing fast multi-quantitative images for rapid diagnosis. In this talk, we will see how Transmedtech and Siemens are currently supporting research sites in Canada.
11:30 Kurt Ebeling: Optical, chemical and immunological techniques for diagnosing cancer
Cancer remains one of the most daunting health problems that society has ever faced. Early-stage cancer diagnosis is a key step in progressing more quickly towards treatment and increasing the likelihood of a positive patient outcome.
An overview of the main techniques used to diagnose the most common forms of cancer will be provided to paint the picture of cancer diagnostics, some of these techniques drawing on optical, chemical and/or immunological methods.
This overview will set the stage for a transition into the field of nanotechnology, and more specifically immunoplasmonics, where gold nanoparticles conjugated to cancer-detecting antibodies will be featured.
11: 40 Stephan Reuter: Plasma Medicine – controlling cold plasmas for therapeutic applications
Prof Reuter's research involves the interaction of non-thermal plasmas with liquids and diagnostic methods such as ultrafast laser spectroscopy, spectral imaging, and single shot techniques. Studied application fields are plasmas for medicine, environment, and material synthesis.
12H10 Stay-on to discuss informally with researchers and participants during our virtual lunch break.