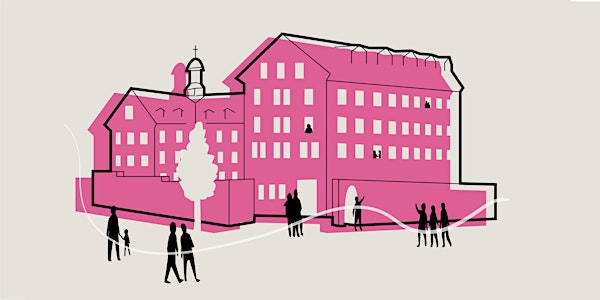 Session 1: The things we do that money can't buy
Away from the influence of money, what are people doing and why?
Date and time
Monday, August 30, 2021 · 5:30 - 7:30pm EDT
Location
La Cité-des-Hospitalières 251 Avenue des Pins Montréal, QC H2W 1R5 Canada
About this event
*Le français suivra*
Unpacking value-driven activities: In this workshop, we ask the community to come in and share their answers to the following question: "What are some personal projects, unsalaried work or voluntary positions you've undertaken?"
Outcome: Map of value-driven activities
+++
ARRIVAL INSTRUCTIONS
Our entrance is on the corner of Pins and Parc. You should see an arch next to a parking lot. We suggest entering through the arch, because it's fun to do ;)
If you arrive by car, please do not park in the parking lot as we do not have permission to use it.
The entrance will be on your right. It is the door in the center, beneath a stained glass window featuring the image of a nun.
Ring the doorbell and allow some time for an answer.
Once inside, ascend the stairs. On your left you will encounter the security desk, where you are required to sign in.
Continue straight down the hall to the very end. We are located in the community room. We ask that you please do not go anywhere else in the building, besides the washrooms.
Thank you!
+++
This event is part of Value Collective's Co-Design Sprint, a week-long series of workshops and informal discussions hosted at la Cité-des-Hospitalières, the former monastery located at the foot of Mount Royal.
Value Collective is a proposed institution for non-financial value creation currently in its prototyping stage. It aims to support people whose desired work is valuable, but not profitable. To facilitate these efforts, Value Collective proposes rent-free living and workspace for a rotating cohort of self-organized residents. Further support would be provided through documentation, organizational infrastructure, and networking opportunities. The broader goal of the initiative is to act as a living lab for alternative economic practices.
https://shockvaluecollective.com/value-collective
-
Déballer les activités axées sur les valeurs : Dans cet atelier, nous demandons à la communauté de venir partager ses réponses à la question suivante : "Quels sont les projets personnels, les travaux non salariés ou les postes bénévoles que vous avez entrepris ?"
Résultat : Carte des activités axées sur la valeur
+++
INSTRUCTIONS D'ARRIVÉE
Notre entrée se trouve au coin de Pins et Parc. Vous devriez voir une arche à côté d'un stationnement. Nous vous suggérons d'entrer par l'arche, parce que c'est amusant à faire ;)
Si vous arrivez en voiture, veuillez ne pas vous garer sur le parking car nous n'avons pas la permission de l'utiliser.
L'entrée se trouve sur votre droite. Il s'agit de la porte située au centre, sous un vitrail représentant l'image d'une religieuse.
Sonnez à la porte et attendez un peu la réponse.
Une fois à l'intérieur, montez les escaliers. Sur votre gauche, vous trouverez le bureau de la sécurité, où vous devrez vous enregistrer.
Continuez tout droit dans le hall jusqu'au bout. Nous sommes situés dans la salle communautaire. Nous vous demandons de ne pas aller ailleurs dans le bâtiment, sauf dans les toilettes.
+++
Cet événement fait partie du Co-Design Sprint de Value Collective, une série d'ateliers et de discussions informelles d'une semaine à la Cité-des-Hospitalières, l'ancien monastère situé au pied du Mont Royal.
Value Collective est une institution proposée pour la création de valeur non financière, actuellement en phase de prototypage. Elle vise à soutenir les personnes dont le travail souhaité a de la valeur, mais n'est pas rentable. Pour faciliter ces efforts, Value Collective propose un logement et un espace de travail gratuits pour une cohorte tournante de résidents auto-organisés. Un soutien supplémentaire serait fourni sous forme de documentation, d'infrastructure organisationnelle et de possibilités de mise en réseau. L'objectif général de l'initiative est d'agir comme un laboratoire vivant pour des pratiques économiques alternatives.
https://shockvaluecollective.com/value-collective