Sisters In Psychedelics Summit - July 14-16, 2023
Produced and presented by women. Open to all people who are curious about or engaged with plant medicine and psychedelics.
When and where
Location
Metrotown 4700 Kingsway Burnaby, BC V5H 4M5 Canada
About this event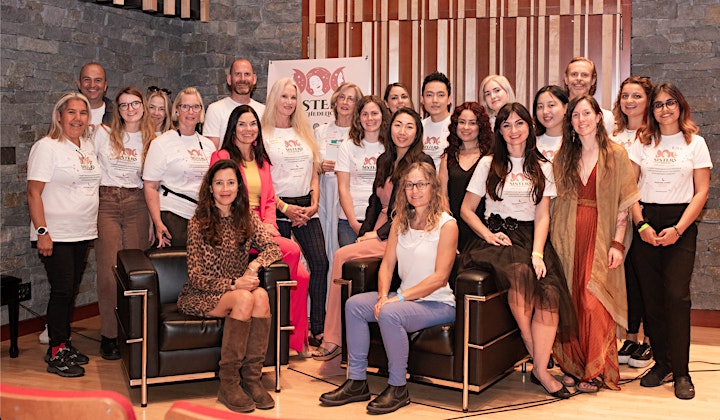 Join the 2nd annual SIP Summit to celebrate and elevate the psychedelic sisterhood!
Available in-person & through livestream
Produced by women and featuring all women presenters, the Sisters in Psychedelics Summit is a unique event developed to uplift women and the divine feminine in the psychedelic space, providing an opportunity to connect, learn and grow in an educational and inspirational environment.
Whether you are just curious about plant medicines, an experienced psychonaut, an above or below ground healer, or an industry professional, you will walk away with actionable knowledge and a sense of sisterhood from this community-centred event.
*This event welcomes all genders, and our sacred male supporters are encouraged to attend.
** Learn more about the SIP Summit 2023 here!
Tentative Schedule - subject to change
Friday Evening: Welcome Reception
Saturday: Presentations + Vendor Booths
Saturday Evening: VIP Connection Ceremony
Sunday Morning: Presentations + Vendor Booths
Sunday Afternoon: Deep-Dive Workshops on Select Presentation Topics*
* Sunday afternoon deep-dive workshops are priced separately and not included in standard or VIP tickets. Details to be announced.
CAN'T WAIT FOR THE SUMMIT TO GET INVOLVED? JOIN SIP ON HEARTBEAT FOR CONVERSATION, CONNECTION, EVENT UPDATES, SPECIAL OFFERS AND MORE!
Our "WHY"
Our mission is to help shape a more balanced and gender equitable psychedelic renaissance by celebrating and elevating the contributions of women in this space.
At the same time, our purpose includes raising awareness of the psychedelic and entheogenic movement in Vancouver and Canada, positioning these locations at the forefront of the global psychedelic landscape.
Why should you attend?
Join us to connect, learn and grow
Help shape the future of the divine feminine in the psychedelic renaissance
Learn about psychedelics for healing, growth, and personal development
Understand the current state of psychedelic research, advocacy and industry
Meet and connect with other pro-psychedelic women
Help increase awareness and shape the future of a more gender balanced psychedelic future
Experience the magic that happens when the divine feminine is elevated and our voices are heard!
What your in-person ticket includes
Welcome reception
2-days of programming including expert speakers, add-on workshops* & group activities
Connecting and networking opportunities
Finger food and beverages
Discounts + special offers from our sponsors and vendors
Prizes!
Reserved seating (VIP)
Take-home gift bags (VIP)
Connection ceremony (VIP)
* Sunday afternoon deep-dive workshops are priced separately and not included in standard or VIP tickets. Details to be announced.
Our Speakers
Featuring powerful and thought-provoking female speakers from a broad cross-section of practices and areas of expertise, the Sisters in Psychedelics Summit aims to elevate women's contributions and perspectives in the psychedelic realm.
This event is mask-optional, unless otherwise indicated by the summit venue owners.
We're closely monitoring the local COVID situation and will adjust as necessary as we get closer to the event and it is a possibility that COVID rapid testing will be required, as per Health Canada mandates.
FAQ
Can I get a refund?
Unfortunately, no. We're a lean team that can't devote time for more admin work than necessary to keep the community going. So, if you accidentally paid twice or can no longer make the event, please respect our no-refund policy and don't ask. Instead, treat it as a generous donation to someone who cannot afford to attend the event otherwise. We thank you for your understanding and may good karma bless you!
Why is the cost so high?
Is it? When we consider everything that goes into putting on a successful event of this scale, and we compare the prices to those of similar calibre events in North America, we're proud to say we've kept the costs low! Feel free to have a look around to compare. We know that even though this is a justifiable value exchange, not everyone will be able to afford to attend. That's why SIP - and some generous donors - provide a pool of scholarship tickets that will be awarded closer to the event date. You can apply here.
Why isn't the live-stream free like it was last year?
We were pleased to be able to provide live stream for free at our first event even though there was significant cost to us to do so. This year, our costs are even higher, and we have proven the value of the presentations, so we priced the livestream tickets at a fair reciprocal value for the time, energy, personnel, AV equipment and other associated costs.