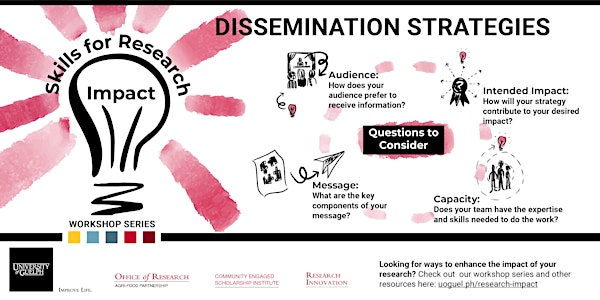 Skills for Research Impact Series: KTT Strategies and Dissemination
Presented by Elizabeth Shantz, Research Innovation Office
About this event
Join us for the fourth installment of our five-part Skills for Research Impact workshop series!
How do you share your research with non-academic audiences? Learn about a number of potential mechanisms you can use for knowledge mobilization, discover how to choose a mechanism that's appropriate for your audience, and take a deep dive into several popular mechanisms for dissemination, including social media, research summaries, infographics, and media.
The series will be offered virtually using Zoom. For more information and to register for the other sessions, visit uoguel.ph/research-impact
If you have any questions, please feel welcome to email us at kttadmin@uoguelph.ca.
*Note: you will receive meeting access information in the reminder email sent out closer to the event.