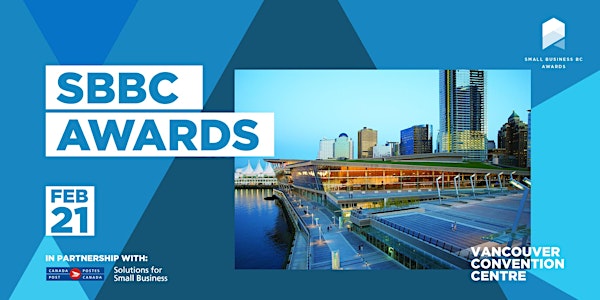 Small Business BC Awards Gala 2020
When and where
Location
Vancouver Convention Centre West Building 1055 Canada Place Vancouver, BC V6C 0C3 Canada
Description
Small Business BC Awards Gala 2020
Join us as we celebrate and showcase the leading small business owners making a difference from around British Columbia in the largest small business awards in the province.


TICKETS SALES ARE NOW ON HOLD - IF YOU'D LIKE TO ATTEND PLEASE EMAIL AWARDS@SMALLBUSINESSBC.CA

About this event
Enjoy dinner, drinks, and networking with BC's top business owners, industry leaders and government officials as we announce the winners of the 17th Annual Small Business BC Awards sponsored by Canada Post. Take in glittering views of Vancouver Harbour and the north shore mountains from the award-winning Vancouver Convention Centre.
Work the room at our networking reception and meet some of the most influential people in business! Hosted by special guest Emcee Erin Cebula, this year's awards will also feature a stage appearance from BC Minister of Jobs, Economic Development and Competitiveness Michelle Mungall. Congratulate our award winners and celebrate with those who are passionate about entrepreneurship. This is your opportunity to meet both the leading business owners in BC and the innovative up-and-comers.
Watch the video from last year here

Small Business BC Awards Ceremony
Friday, February 21, 2020 | Vancouver Convention Centre
Reception................................. 5:00pm to 6:30pm
Dinner & Awards Ceremony.......6:30pm to 9:15pm
Drinks & Networking..................9:15pm to 10:30pm


SBBC Award categories include:

As part of the SBBC Awards, in partnership with the Government of British Columbia, we also celebrate the Open For Business Awards, where we award small, medium and large communities who have supported the growth of small business through regional initiatives.
What is included in your ticket:
SBBC Awards ceremony
A three-course dinner with wine
Two additional complimentary drink tickets
Pre and post Award ceremony networking with leading business owners, decision makers and inspiring past SBBC Award winners.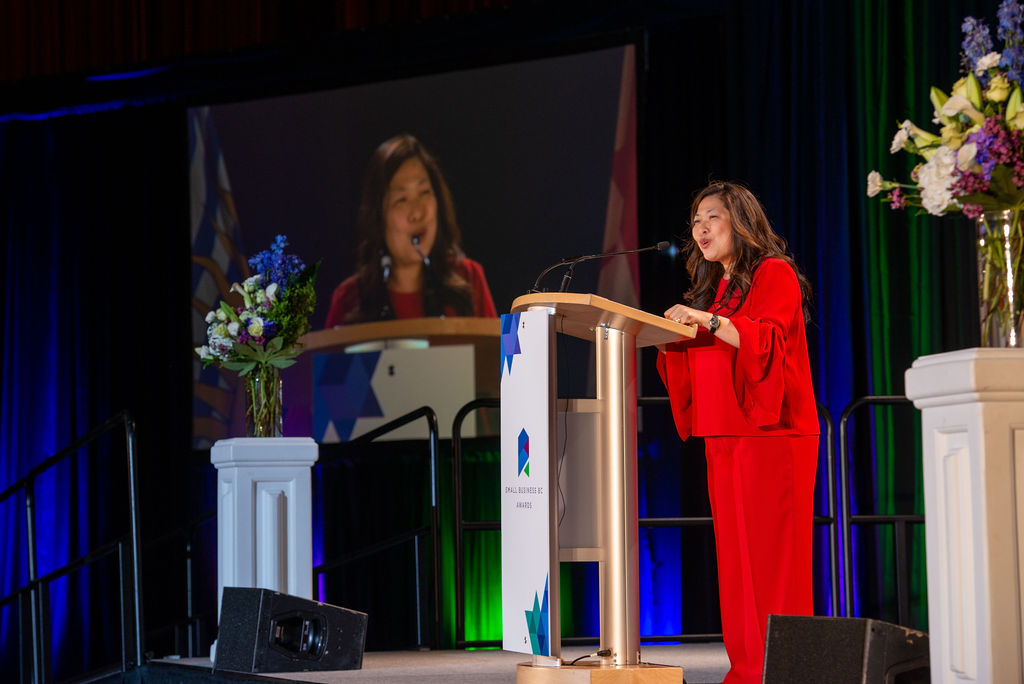 Who attends the Small Business BC Awards?
The Small Business BC Awards tickets are open to everyone - those in attendence include: small business owners nominated for awards, Government Ministers, leading BC businesses, entrepreneurs, media, sponsors and past SBBC award winners.
Previous winners include:
For a full list of winners since 2011 click here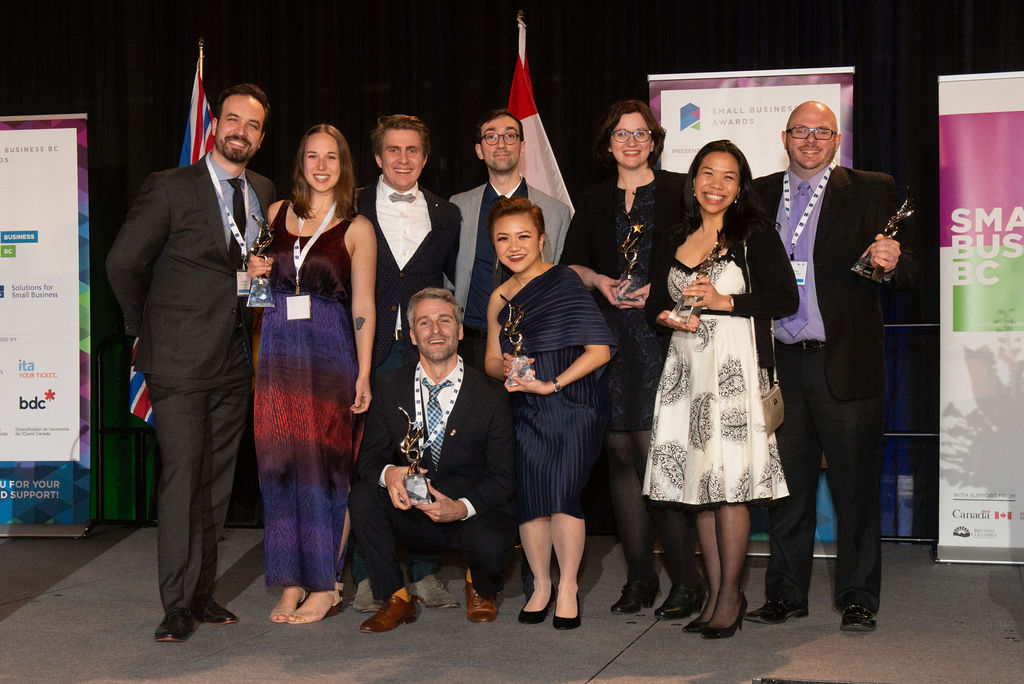 Frequently Asked Ticket Questions
Question: are the tickets refundable?
A: No - however if you really can not attend please contact our team on awards@smallbusinessbc.ca
Question: I don't know my guest's names yet; can I still purchase our tickets?
A: Absolutely. If you wish to buy more than one ticket and don't know the identity of your companions, simply write in "Guest 1", "Guest 2", etc, etc. This information can be amended later by clicking your order on the tickets page.
Question: I don't know my guest's food requirements yet; can I still purchase tickets?
A: Yes you can! Simply choose one of the options (it doesn't matter which) and it can be amended later. Eventbrite have put together a convenient guide to amending your ticket order.
Question: I'd like to sit beside one person, is this possible?
A: In these instances, we recommend you purchase tickets on the same order as people you want to sit with. You can take advantage of our group rate for a table of eight which allows for savings on individual ticket price.
Question: What is the dress code for the evening?
A: Our Awards Gala offers a chance to rub shoulders and learn from some of British Columbia's brightest small business minds. We recommend you dress for success!
We would also like to thank our sponsors for their continued support of small business:
Community sponsor: