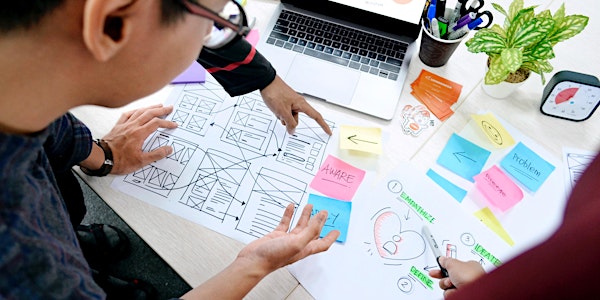 Social R&D: A National Practice Gathering
On June 16-17, Social Innovation Canada will host 'Social R&D: A National Practice Gathering' to connect the Social R&D field in the country
Refund Policy
Contact the organizer to request a refund.
Eventbrite's fee is nonrefundable.
About this event
How are Canadian social innovators addressing complex challenges in this changing time? How can social R&D tools and practices strengthen their efforts?
At this time of systems disruption and reinvention, strengthening our capacities to better solve problems has never been more needed.
A national gathering
Date: June 16-17
Time: 8AM - 12:30PM PST / 11AM - 3:30PM EST
Where: Online
Over two half-day sessions, you will be able to:
Connect as a community of Social R&D practitioners to learn from and with each other
Explore how we as a field are adapting our practices to respond to this changing time
Discover and apply new methodologies to our social impact work and opportunities for investment readiness support
Continue to build a national narrative around the social R&D field.
What will it look like?
The two half days will weave in large group storytelling, small group interactions, and solo reflections. In each session, we will invite insights from the small groups into the larger community to allow for collective sensemaking.
The content will take place in both English and French, with live translation provided in plenary sessions.
Schedule
June 16
8AM PT / 11AM ET / 12PM AT - Opening, land acknowledgement activity and framing
8:30AM PT / 11:30AM ET / 12:30PM AT - Stories from the field: Highlighting social R&D work by practitioners across Canada
10:00AM PT / 1:00PM ET / 2:00PM AT - Break / Movement exercise led by Restore Human
10:30AM PT / 1:30PMET / 2:30PM AT - Mapping practices: Connecting on similar focus areas to explore how we are leveraging social R&D to tackle complex challenges
12PM PT / 3PM ET / 4PM AT - Capturing insights and closing
12:30AM PT / 3:30 PM ET / 4:30PM AT - End of Day 1
June 17
8AM PT / 11AM ET / 12PM AT - Opening, creative grounding activity
8:30AM / 11:30 ET / 12:30PM AT - Community connections: Building relationships as practitioners through open space conversations on shared topics and provocative questions in the social R&D field
10:00AM PT / 1:00PM ET / 2:00PM AT - Break / Live music provided by Locals Lounge
10:30AM PT / 1:30PM ET - Peer input processes: Providing opportunities for practitioners to work through challenges in their own work and allow for cross-community connections.
12PM PT / 3PM ET / 4PM AT - Capturing insights and closing
12:30AM PT / 3:30 PM ET / 4:30PM AT - End of Day 2
Why should you join?
Does your work call you to use innovative social research practices to better understand and address social issues?
Do you draw on experimental approaches such as prototyping, human-centered design, social labs, data measurement, and ethnography in order to help solve complex social challenges?
Do you feel the urge to share and learn from other practitioners who work to create change?
Come and join us for this two-day gathering including practitioners:
• from across the Social R&D community,
• from coast to coast to coast in Canada,
• at different stages in their practitioner journey,
• engaged in tackling a diversity of complex social challenges,
• and leveraging a variety of social R&D practices to create change.
We are a diverse community with practitioners coming from the nonprofit, charitable, corporate, and public sectors. If you're running experiments to try to address social issues, we invite you to join us in collective inquiry.
Please share this invitation to practitioners who would benefit from this event and reach out to Annelies Tjebbes from Social Innovation Canada if there are groups or individuals that should receive a targeted invitation: annelies@socialinnovation.ca.
'Social R&D: A National Practice Gathering' is a partnership between Social Innovation Canada, the McConnell Foundation, and Innoweave as part of the federal government (ESDC's) Investment Readiness Program. We also gratefully acknowledge the support of the Suncor Energy Foundation and ESDC in making this conference possible.
All sessions will include break times to stretch and move our bodies as well as to take care of personal needs. Selected sessions will also be recorded and shared after the event.
---
Rassemblement de praticiens en R & D Sociale
Le 16 et 17 juin 2020, Innovation Sociale Canada vous invite à un rassemblement de praticiens pour développer nos connections et renforcer le secteur de la recherche et développement sociale au Canada.
Comment les innovateurs sociaux répondent-ils aux défis complexes de notre époque?
Dans cette période de disruption et de réinvention, renforcer nos capacités collectives à résoudre des problèmes est plus important que jamais.
Un rassemblement national
Date: 16 et 17 Juin 2020
Heure: 8h-11h30 (Pacifique) / 11h-15h30 (Est)
Où: En ligne
Au cours de deux sessions d'une demi-journée chaque, vous aurez l'opportunité de:
- Entrer en relation avec une communauté de praticiens de la recherche et développement sociale et d'apprendre au contact des autres;
- Explorer nos avenues pour adapter nos pratiques dans cette période d'intenses changements;
- Découvrir et mettre en application de nouvelles méthodologies dans notre travail vers l'impact social, et des opportunités pour être soutenu vers un investissement;
- construire un récit collectif autour de la pratique de la recherche et développement sociale.
Les 2 sessions alterneront des moments de partage d'expériences en grand groupe, des moments d'interactions plus intimes en petits groupes et des moments de réflexion personnelle. Dans chaque session, nous vous inviterons à partager vos apprentissages dans la communauté élargie pour pratiquer ensemble la création de sens.
Nous accueillons les interventions en Français et en Anglais. Une traduction simultanée sera offerte lors des moments de plénières. Les sessions se veulent participatives et engageantes, dans un esprit d'expérimentation sur les pratiques de conversation en mode virtuel.
Programme
16 Juin
8h (Pacifique) | 11h (Est) - Ouverture, activité de reconnaissance territoriale et cadrage de l'événement
8h30 (Pacifique) | 11h30 (Est) - Histoires de pratiques - Mettre en lumière le travail de praticien.ne.s de la R & D sociale à travers le Canada.
10h (Pacifique) / 13h (Est) - Pause / Mouvement, proposé par Restore Human
10h30 (Pacifique) | 13h30 (Est) - Cartographie des approches - Connecter autour de questions communes pour explorer comment nous mobilisons la R & D sociale pour travailler des enjeux complexes.
12:30AM PT / 3:30 PM ET - Clôture - Jour 1
17 Juin
8h (Pacifique) | 11h (Est) - Activité d'arrivée, sous la direction d'Helen Yung
8h30 (Pacifique) | 11h30 (Est) - Forum ouvert : Connections en communauté - Nourrir des relations entre praticien.ne.s à travers des conversations ancrées dans des questions vivantes pour le champ de la R & D sociale.
10h (Pacifique) | 13h (Est) - Pause / Musique Live proposée par Locals Lounge
10h30 (Pacifique) | 13h30 (Est) - Processus d'aide par les pairs - travailler entre praticien.ne.s sur des défis concrets de nos projets, tout en nourrissant des connexions.
12h (Pacifique) | 15h (Est) - Récolte des apprentissages, et clôture
Pourquoi nous rejoindre?
Votre travail vous appelle à mobiliser des pratiques de recherche pour mieux comprendre et répondre à des enjeux sociaux?
Vous vous inspirez de pratiques expérimentales telles que le prototypage, le design centré sur l'humain, les laboratoires vivants, les données ouvertes, l'ethnographie pour aider à résoudre des problématiques sociales complexes?
Vous sentez le besoin de partager vos apprentissages et d'apprendre d'autres praticiens du changement?
Rejoignez-nous pour ce rassemblement de deux jours avec des praticiens:
Provenant de toute la communauté de recherche et développement sociale;
à travers le Canada;
à différentes étapes de leur carrière;
Engagés sur une vaste diversité de défis;
Mobilisant une grande variété de pratiques
Nous sommes une communauté diverse de praticiens provenant des secteurs communautaire, philanthropique, corporatif et public. si vous développez des projets à impact social, nous vous invitons à nous rejoindre dans dans ce questionnement collectif.
N'hésitez pas à partager cette invitation dans votre réseau de praticiens et à rejoindre Annelies Tjebbes à Innovation Sociale Canada : annelies@socialinnovation.ca
'Recherche et développement : un rassemble national' est un partenariat entre Innovation Sociale Canada, la Fondation McConnell et Innoweave, dans le cadre du programme fédéral de préparation à l'investissement. Nous sommes également reconnaissants pour le soutien apporté par la Fondation Énergie Suncor et ESDC pour la réaslisation de cet événement.
Toutes les sessions inclueront des pauses pour s'étirer et prendre soin de nos besoins personnels. Certaines sessions seront enregistrées et partagées après l'événement.