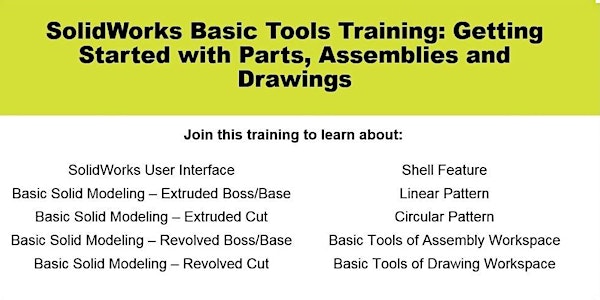 Multiple dates
SolidWorks Basic Tools Training: Getting Started with Parts & Assemblies
The purpose of this SolidWorks workshop is to allow participants to become familiarized with the key elements of technical drawings as well
By WIMTACH (Wearable, Interactive and Mobile Technologies Access Centre in Health)
When and where
Date and time
Fri, Jul 10, 2020 10:00 AM - Fri, Mar 19, 2021 2:00 PM PDT
About this event
Workshop for SolidWorks Essentials: Getting Started with Parts, Assemblies and Drawings - By Pouria Tavakkoli Avval, Ph.D
Introduction
SolidWorks is solid modelling software that allows you to design products in three-dimensions. The technique is generally to sketch 2D profiles, then use feature commands like extruding and lofting to produce a solid shape. SolidWorks is one of the most popular solid modelling software because it has a user-friendly GUI, short learning curve, and parametric and direct modelling capabilities. Today, most companies and organizations are increasingly using SolidWorks to design, engineer and evaluate their products or systems, prior to manufacturing and saving a significant production time and cost.
Objectives
The purpose of this SolidWorks workshop is to allow participants to become familiarized with the key elements of technical drawings as well as introducing the features of SolidWorks. This CAD workshop covers the industrial standards used in developing proper engineering assembly drawings as well as the necessary skills to utilize SolidWorks to effectively generate three-dimensional models of any mechanical component and assembly. Particularly, the participants will be introduced to the following software's features/commands.
Sketch and Feature commands such as Pattern, Mirror, Extrude Boss/Base or Cut, and Revolved Boss/Base or Cut
Making Assemblies using standard and non-standard parts
Making Drawings of created part.
 Learning Outcomes
At the end of the workshop, successful participants will be able to:
Use proper modeling concepts and tools of the software to create fully defined and robust 3D model
Create engineering drawings including orthographic, section or other view types using the CAD model
Create assemblies with designed models and standard components (Toolbox) using the proper mating commands
Create exploded views to document the assembly
Validate developed models and assemblies efficiently by checking for interference and design intent.
Pre-requisite: You need to have SolidWorks 2019 installed on your computer.
ALL PARTICIPANTS WILL NEED A GMAIL ACCOUNT
It is an online event, you will be provided with a link to the training and agenda in the follow-up email.