Solo Chicken the coop in partnership with Theatre St. Thomas present FOOLISH DEEDS in the Box, a night of Greek inspired solos.
About this event
Solo Chicken/the coop in Partnership with Theatre St. Thomas Presents
FOOLISH DEEDS (in the Box)
I see you. I see you all. I see that dirty chip bag stuffed under the couch and those stained sweatpants.I see those unread self-help book and that trail of tears.I see your shit unravelling.
On Wednesday May 19, 2021 join Solo Chicken/the coop and Theatre St. Thomas for a Greek inspired night of deep musings from our cast of Gods and Goddesses. FOOLISH DEEDS, which began as a 'what if' between coop co-artistic Directors Jean Michel Cliche and Lisa Anne Ross way back in pre-pandemic days, has blossomed into a trippy inner world populated by the Greek pantheon. Follow along with Orpheus, Eros, Lethe and the gang as they rant, rave, cry and whine about their Daddy issues, Tinder accounts and how hard it is to be alone.
This collaboration is just one stop on what Solo Chicken/the coop hope will be a long, weird, winding theatrical road that will take us back to a future where we can rub elbows and breath each other's air! The process first kicked off with the coop taking up residency at The Fredericton Playhouse in the Summer of 2020, which was so fun and fruitful, Director Lisa Anne Ross decided to bring the work to the marvellous students of Theatre St. Thomas this past winter. Each student actor chose a character from the Greek pantheon and then set about creating their inner and outer world through movement, text and a little make-up magic. And in true pivoting pandemic form, where performing live is almost impossible, the cast decided they wanted to start by sharing their work through the viral Tik Tok platform as a way to reach a bigger audience, before moving on to sharing the big show!
FOOLISH DEEDS Winter 2021 CAST AND CREW LIST
Lisa Anne Ross - Director
Chris Saad - Technical Director
Beatriz Cordeiro - Stage Manager
Dr. Lynda Ross - Costumes
Sydney Hallett - Movement Coach
Anthony Bryan - Writing Support
Kaylee McNeil - Hair and Makeup
Sofia Paura - Social Media and Filming
Lisa Anne Ross - Editing, Filming, Social Media
CAST
Peter Boyce as Hermes
Rey Cascante as Apollo
Noah Deas as Morpheus
Brenna Gauthier as Orpheus
John Harley as Eros
Raine O'Connor as Lethe
Lindsay Ogg as Athena
Carter Scott as Prometheus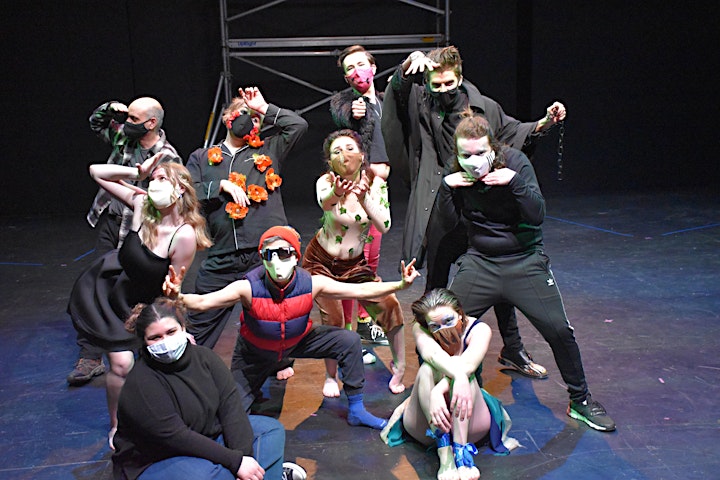 Organizer of Solo Chicken and TST Present FOOLISH DEEDS in the Box