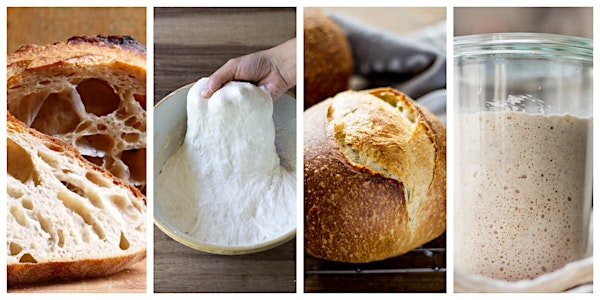 Sourdough Bread - Online Live Class
Learn to make delicious artisan sourdough bread
Refund Policy
Refunds up to 1 day before event
Eventbrite's fee is nonrefundable.
About this event
This online class will be broadcast via Zoom. Please download Zoom for free on your computer, tablet or phone prior to the event. No account required. Visit https://zoom.us/download. You will receive the webinar link after registration.
This is a live interactive webinar, so you will be able to ask questions to the Chef during the event. The session will be recorded and shared with all the attendees afterwards for reference. For privacy reasons, we will ask students to keep their video off.
Artisan Sourdough is a lengthy but rewarding experience. The whole process usually spans over 2 days! With a 2 hours class, we will have 3 different stages of dough ready in advance to demonstrate as best as possible what to expect when doing it at home.
Please note, if you want to prepare your own sourdough loaf during the webinar, you need to have a healthy sourdough starter on hand (see note at the bottom), and prepare 100 gr of levain, 10 to 14 hours prior the class start. Check this video to learn how to get your starter healthy and prepare levain. If you don't have a levain ready, you are welcome to participate just to learn! You can watch the video again after the class to go at your own pace.
What do you need to make this recipe:
A mixing bowl, about 6 cups or larger. 500 gr flour (white bread flour recommended, otherwise all purpose), 350 ml water, 1.5 tsp salt and your prepared 100 gr levain. A baking tray and oven. Another bowl, about 4 cups and a kitchen towel for resting the dough, 1 TBSP of rice flour or other no gluten flour.
Recommended to have but not essential: A dutch oven (or any pot with lids that can go in a 500 F oven) 4 quarts or bigger for cooking. A bread lame, or very sharp knife, to score the top. A pastry scraper. A banneton or proofing basket. A scale.
Thank you for joining us!
If you do not have a starter already, learn to make one with our starter tutorial. Please note that will take you at least a week to have a starter ready to go. You can always join us just to learn, or join us later. We're planning on making this a recurrent event!
If you live in Canada, we can ship you a dehydrated starter. If you live around Port Moody, BC, we can arrange to share some of our fresh starter. Email us for details.