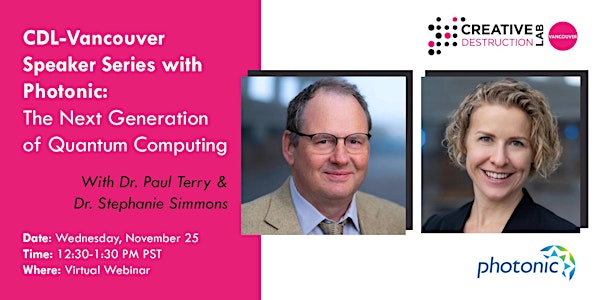 Speaker Series with Photonic: The Next Generation of Quantum Computing
Sit down virtually with Photonic's Dr. Paul Terry and Dr. Stephanie Simmons to explore the next generation of quantum computing.
Date and time
Wed, Nov 25, 2020 12:30 PM - 1:30 PM PST
About this event
The Creative Destruction Lab - Vancouver proudly presents a Speaker Series event with Photonic's Chief Executive Officer and Chief Quantum Officer.
Join in on the interactive Zoom session to learn more about how light powers quantum bits (qubits) on silicon chips to create quantum computers that materialize solutions for previously intractable problems.
Photonic is at the forefront of designing next-generation quantum technologies in silicon. Photonic's breakthrough results with silicon – particularly silicon photonic spins – have upended many conventional assumptions in quantum computing.
The hour will be split between a presentation from Dr. Stephanie Simmons and Dr. Paul Terry and a Question and Answer period facilitated by CDL Vancouver's Site Lead, Paul Cubbon.
Presenters
Chief Quantum Officer & Founder, Dr. Stephanie Simmons
Recently selected as Top 40 under 40 in Canada, Stephanie is a world-leading expert in quantum technologies, silicon spin-photon interfaces, condensed matter spin dynamics, and quantum optics. Stephanie has twice achieved Physics World Top Ten Breakthroughs of the Year. She is also a Tier 2 Canada Research Chair, a Canadian Institute for Advanced Research Fellow in Quantum Information Science, and Assistant Professor of Physics at SFU. Her work has been featured by the BBC, CBC, Scientific American, Wired Magazine, the New Scientist, and New York Times.
Chief Executive Officer, Dr. Paul Terry
Paul leads the corporate strategy as the company works at delivering the world's first universal quantum processor. He is a seasoned executive, entrepreneur, engineer, and angel investor specializing in disruptive technologies (networking, storage, computing, artificial intelligence, and Big Data). Paul has been a founder or founding employee at six successful Canadian companies over 30 years, with a cumulative valuation of over $10B.